How To Make Scaffold In Minecraft?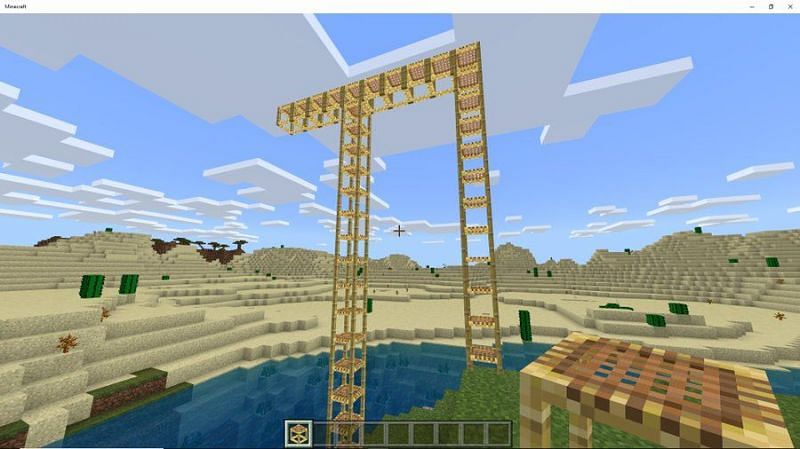 Scaffolding in Minecraft came like a feature sent directly by the gods themselves. Ever since its release in version 1.14, scaffolding has been a game-changing feature. With the ability to build base/skeleton structures for our major building projects.
What is it about scaffolding that makes it so special? Well, we can always make normal dirt block towers for building out skyscrapers in Minecraft, but they can often have a disastrous ending. One misclick can make you lose your hundreds of hardcore living days.
And that is why scaffolding became a breakthrough change in the history of Minecraft.
So what is scaffolding, how it works, what is so special about this, how do we even make it?
Let us find out everything about it today.
---
How To Make Scaffolding In Minecraft?
Scaffolding in Minecraft is a very distinctively unique feature and why is that?
Scaffolding is a block that can be broken with one single shot by the default hands in the game. At the same time, grass and leaves which have the same breaking strength of one hit with hands, are not capable of being re-built and utilized the same way as a scaffold.
Now to say why scaffolding is such a perfect building tool, we will learn about how we can interact with it.
So to start our guide of making scaffolds in Minecraft, let us first see the ingredients requirements.
Requirements
As inevitable it always is, we will need the crafting table for assembling our scaffold.
Bamboo will be our first direct ingredient for making scaffolds in Minecraft.
The second and last ingredient for making scaffolds in Minecraft will be strings.
Crafting Table
We will start with building the crafting table. If you already have it, you can skip to the next step.
Now for making a crafting table we are going to need just a tree log. One tree log converts into 4 planks. And 4 planks, put together in the crafting section of the inventory provides us with a crafting table.
Bamboo
Now bamboo is an item that could be one long trouble. Finding bamboo can take time due to its unavailability in almost every biome except one. To find bamboo, we must venture out to find the infamous jungle biomes.
Jungle biomes can be a heavy source of finding bamboo, and sometimes the only reliable source too. But once we do, we can continue our work for further building the scaffolds.
Strings
Strings in Minecraft can be used for a lot of purposes, like making fishing rods. For our next ingredient strings, we will be depending on a little bit of hunting. Now as always, we can find strings in some of the temple chests, but the most reliable method is taking it from the makers themselves, that is, the spiders.
We can easily obtain a lot of strings in Minecraft by slaying spiders. This can be easily done during the night since they spawn in absence of light.
Assembly
With our strings and bamboo ready, we can get to finally assembling them using our crafting table to make our scaffolds.
Now the pattern in which we will set our ingredients is like this.
On the left and right columns, place bamboo from top to bottom in all three squares on both sides, so that is 6 minimum bamboo for required. Next, place one string in the top square of the central column. It should look something like this.
Once done, we can obtain our scaffolding in Minecraft.
Ultimately, we are trading 1 string and 6 bamboos for 6 scaffoldings.
Now that we finally know how to craft scaffolding in Minecraft, let us now know how does it work.
How Does It Work?
Scaffolds can be stacked on top of each other to any height in Minecraft, and we can use them to climb up and down in it like an elevator. Like sugarcane, breaking the lower scaffold blocks will take down all the blocks above it, hence very easy to break and carry them again to place somewhere else.
Now one special feature about scaffolding in Minecraft is that at any level, on any side, up to six blocks of scaffoldings can be extended without any support beneath it.
Scaffold blocks can be stacked and carried in the inventory in packs of 64.
---
Conclusion
So this was our detailed and easy-to-go guide for making/crafting/building scaffoldings in Minecraft. Now scaffoldings are very easy and helpful for making large structures in less time since they give us a base that can easily help us reach areas that can otherwise be a lot more difficult.
Adding the bonus fact that we can climb up and down on them much more easily, as well as can carry them around without hassle gives them another good reason to be used.
Also Read: