How To Make And Use A Loom In Minecraft?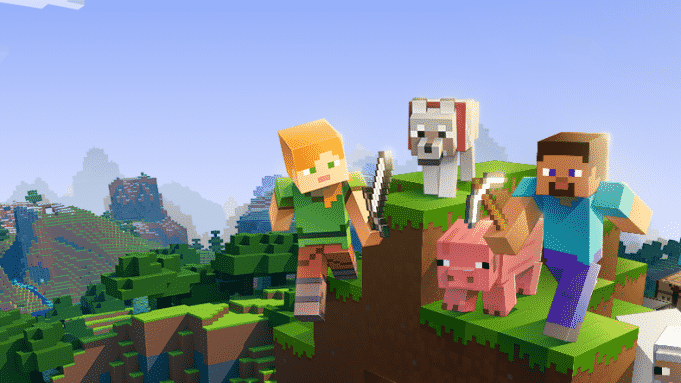 Loom as the name suggests itself, is a tool we make in Minecraft which helps us to paint and apply patterns on a banner. If you don't know what a banner in Minecraft is, then maybe you have not yet come across pillagers.
Pillagers are villager-like mobs in Minecraft, except unlike friendly and helping villagers, the pillagers always look forward to attacking and kill you, or even the villagers.
Now why do we talk about pillagers? Because they are usually the first instance for us to witness the banners, with special 'pillager' design, which they usually carry around on their heads.
Seems pretty cool, right? Well, it is even better when we can make our own banners with many more colors and designs. So let us build our loom and get started with it!
---
How To Make A Loom In Minecraft?
Looms will be our beginning point of putting colors on a banner and also applying designs and patterns on the banner. Making a loom is quite easy of a target, but using it successfully? Not that easy, but nothing on Minecraft is impossible, so let's do it.
Requirements
To make a loom in Minecraft we need some very small and easy ingredients, what are they?
Strings are our first ingredient required for Minecraft's loom crafting recipe.
Our second ingredient required for the loom recipe in Minecraft is the wood planks.
Now unlike our most usual recipes, this one needs no use of a crafting table. Why is that, you might ask.
Well the reason is, crafting table is a 3×3 crafting platform, and for making a loom, we need only a 2×2 platform for crafting, not more than that. So, it can be visually understandable that all the crafting we need to do today, can be done using the crafting section of our inventory only.
It should be noted that there is no enmity with a crafting table, we can always and anytime bring a crafting table to use and it would work perfectly fine, but since we do not need it, our work can be done even without it, that is why we will prefer not bringing it in this guide.
That being said, let us now start with our Minecrafting loom making recipe.
String
Talking about our first ingredient, strings are not usually easy to find, in the daytime. What are we trying to say? Here, the common and absolute source of finding strings in Minecraft is spiders. Yes, spiders are the hostile mobs that drop strings in Minecraft when slayed, among other stuff like spider eye.
So how do we get strings? Very easy, find spiders, kill them! Now spiders in over world can be easily found in the night time, since that's when their party starts. Some hostile mobs like zombies, skeletons and spiders spawn without the presence of light, that is during the night, or during rain and thunderstorms.
Therefore, to get those spiders, we must sacrifice our few good night's sleeps to go out and slay them, hence obtaining those strings.
Now that is one way of finding spiders to slay. What can be another one? Hear us out. Spiders can also be found in caves and mineshafts, all underground areas where there is no light reaching out since that is their sign of spawning.
So go ahead and start digging, if you hear any groans or hisses around you, while breaking blocks, carefully start making your way around, you could find caves.
However, It is always advised to be wearing full protective armor and have shields as well as your way out planned before you start your venture into new caves since the danger of getting attacked from any direction by a skeleton or getting randomly blown by a creeper is very high.
Now that we have killed some spiders and obtained our strings, let us now make some wood planks
Wood Planks
Wood planks as we have always been using till now, are very common in Minecraft, as they are used and required a lot since the beginning of our initial spawn in a new world.
So to start, we know that wood planks can be obtained from wood logs, which are very easily found by simply breaking trees in Minecraft.
As it is always told in our Minecraft guides, any kind of tree can be broken to get wood logs for converting into planks, it does not need to necessarily be a birch tree, or spruce tree, or oak tree, or jungle tree, etc.
Now once we have taken down some trees, we will find wood logs in our inventory, to convert them into wood planks for our use, simply place them in any one square of the crafting section in our inventory, that is it.
This will be how we obtain our wood planks, once ready with them, let us move on to the final step of our procedure of making looms in Minecraft.
Final Step
To make a loom in Minecraft, we will not need a crafting table today.
Therefore, we are simply going to open our inventory and use the small 2×2 default crafting section provided.
Now for making a loom in the crafting section of our inventory, we will use the strings and planks that we recently collected.
Inexact numbers, we will need Two Planks and Two strings to build one loom in Minecraft. Now the pattern that we are going to use for placing the planks and strings is like this –
In the top row, place two strings, one in each block, adjacent to each other.
In the bottom row, place two wood planks, one in each block, adjacent to each other.
For a more visual aid, the picture given below will be helpful.
Now click on the loom icon in the square on the right side of the arrow, place it into the inventory, and we have our loom ready!
Now, this is how to make a loom, let us find out a bit about how do we use it.
---
How To Use A Loom In Minecraft?
So if we are wondering, what does a loom do in Minecraft, here is what it exactly does. Using a loom, we can print colorful patterns on our 2×1 blocked items, like a banner or the shield.
Using a loom, we can put stripes, or arrow, and more designs like that with the color of our choice on our shields that protect us, to make them look even better while doing their job, and we can do so with banners and hang them on the walls of our huge forts and mansions, or small huts, what can we not make in Minecraft.
So how do we do it? Here is how.
There are three(actually four, but last being the result one) squares/slots given in a loom for input, each with a different use.
Place Banner/Shield
The first slot, that we have marked with a black arrow, is to place our banner or our shield in the loom's first square.
Place A Dye
Now as without coloring there is no difference made, we are going to need to place our desired color dye in the second square, which is shown by the red arrow in the picture, for further options to appear.
Now although these options are usually enough to give color and design/pattern touch to our shields or banners, there is one more option given, what is that let us find out.
Banner Pattern
Now lastly, and this being optional,in the third square(shown by the green arrow in the picture), we place something called the "banner pattern", these are objects which give our banners something more uncommon of designs on them, like flower charge, creeper charge, skull charge, and thing.
The reason this is an optional feature is that some of these items are quite exquisite, not easy to obtain.
To make one "banner pattern" for 'The Thing' design, we need one paper and one enchanted golden apple.
To make one "banner pattern" for the 'Flower Charge' design, we need one paper and one oxeye daisy.
To make one "banner pattern" for the 'Creeper Charge' design, we need one paper and one zombie head.
To make one "banner pattern" for the 'Skull Charge' design, we need one paper and one withers skeleton skull.
So this is how to use a loom in Minecraft.
---
Important Note
If you are playing creative mode in Minecraft and trying to make a loom, then it must be noted that when you use your inventory in Creative Mode, it does not show you the crafting section.
So, if you are looking forward to building a loom, you will be relying on a crafting table for its purposes, but then again, you do not even have to use it if you are in Creative Mode.
---
Conclusion
So this was our detailed and easy-to-go guide for making/crafting/building a Loom in Minecraft, and also how to very well use the looms.
Looms in Minecraft can be pretty fun if we learn how to use them since decorations with a banner and on our shields can look amazing.