How To Make Lantern In Minecraft?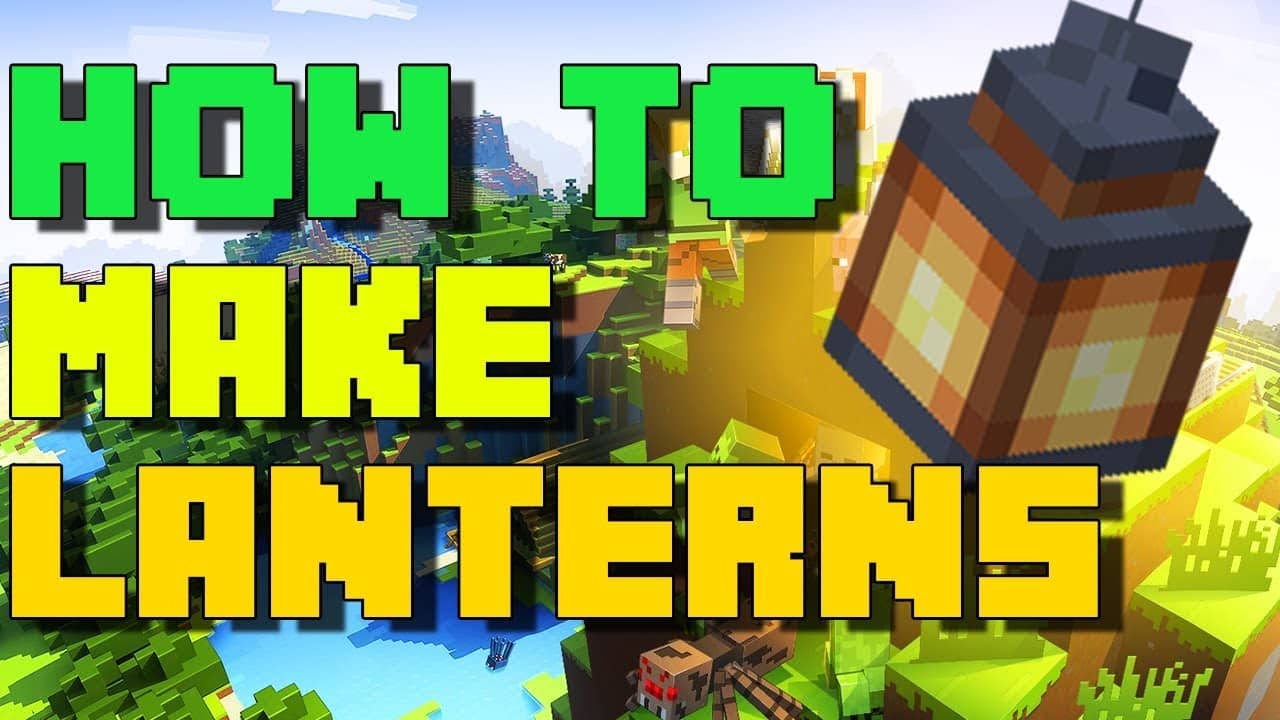 Lanterns can be made in Minecraft and then used to hang on the ceilings and stuff as we know. The elegant and designer look provided by a lantern in Minecraft is unmatched when compared with conventional lighting methods, that is, using the torches.
Home Decor in Minecraft has come a long way since its release, which has been made possible due to Mojang's development of great new items in the game with its newer versions.
Now making a Lantern is quite an easy task, and requirements for the Minecraft lantern recipe are somewhat easily available too. So knowing the basics, let us now begin working with our lantern crafting recipe Minecraft!
---
How To Make Lantern In Minecraft?
Not to be confused with the Lantern from Lantern Corp. of DC, the lanterns in Minecraft only give you light and good looks inside the house.
But even those are some pretty great things to have included in your Minecraft homes. The luminosity of a Lantern in Minecraft is of 15 Units, which is one of the highest light emitting blocks in the game.
So let us find out how do we make lanterns in Minecraft.
Requirements
First and foremost, a list of everything that we are going to need for making our lantern in Minecraft.
Crafting Table

Iron Nuggets

Torch
So knowing what are our required materials for crafting a lantern in Minecraft, we can proceed to further obtain them.
Starting with our list, we will begin with the good-old crafting table.
Crafting Table
One of the first things we make in the game of Minecraft is a crafting table. We can even suppose you already have it ready, in fact many. But if not, then let us make one now.
To build a crafting table in Minecraft, we will need simply one wood log. Obtaining logs in Minecraft is a very basic and easy task.
To do so, simply left-click by aiming on the trees and that is it. Now once we have logs in our inventory (or simply one piece log would work fine too), we can go on to make planks from logs to make our crafting table.
To turn tree logs into planks, simply place them into a single square of the crafting section in your inventory.
Let it be known that one tree log will give us four planks in return, this we can keep in mind to make calculations for our log to plank inventory space.
Now with wood planks that we have prepared, making a crafting table is a fairly simple process.
To make a crafting table with the planks that we have collected, simply pick four planks, and place them in all four squares of the crafting section of the inventory, and we will have our crafting table ready.
Iron Nuggets
The next thing to obtain for our recipe of the lantern in Minecraft is the iron nugget, many of them.
Iron nuggets are not easily obtained in the default world of Minecraft, but, we can still obtain them from one indirect method.

The indirect method of obtaining iron nuggets is actually involved with iron itself. That is, obtaining iron with iron ore, then having them in ingots.
Once we have iron ingots ready in our inventory, we can move forward to get iron nuggets from them. To convert iron ingots into iron nuggets, simply place any amount of iron ingot (at least 1, more your choice) in a single square in either the crafting table or the crafting section of the inventory.
One iron ingot turns into 9 iron nuggets. So we can make this calculation for the conversion amount of iron ingots iron nuggets.
Ready with our iron nuggets next, we can move onto making the final ingredient for our Minecraft recipe of the lantern.
Torch
With our last ingredient, the torches, which are actually very easy to make, and very heavily used in the game, it is not going to be a problem obtaining these.

Torches in Minecraft can be easily obtained by combining two simple ingredients. The ingredients to mix for making torches in Minecraft are coal and sticks.
Coal can be found very easily by mining, and sticks can be obtained by combining two planks in the crafting section.
To make a torch in Minecraft, we will simply need to place coal in any single square, and stick it in the immediate square below it, in the crafting table or crafting section of inventory.
Now while making a torch, it can be seen that one coal and one stick will result in four torches, a pretty good deal seems.
Ready with all our ingredients, all that is needed now is to put them together for finally having our lantern ready.
Assembly
To finally have our lantern ready, we will now combine all our ingredients in the crafting table.
In the crafting table, we will place the ingredients in this method – one torch in the center square of the crafting table, and 8 iron nuggets in all other squares around it.
This will ultimately land us at obtaining the lantern in Minecraft, that we dearly wanted for our houses.
Now lanterns are something that can be hanged from the ceilings and structures with nothing below them. Lanterns can be placed on top of blocks too.
---
Conclusion
So this was our detailed and easy-to-go guide for Minecraft's how to make/build/craft a lantern/or multiple lanterns in Minecraft.
Since the items required are very easily obtained, and the resulting lantern set is quite beautiful as an ornament, it is one of the best investments you can do in Minecraft if you have crossed a certain level of collecting items.