How to Drop Items in Roblox Game – Desktop and Android
Alright, Roblox is a well-known gaming platform that allows its users to play, create, and customize their games to any extent. Although the user interface of the game is pretty self-explanatory, many users find it difficult to manage their inventory in the game. One such problem arises while dropping items. Not able to clear up their inventory, people start searching How to Drop Items in Roblox on the internet.
To drop items in Roblox, all you need to do is open up your inventory (Backpack like icon where all your items are listed). Select the item that you want to drop from the inventory and press the "Backspace" button. It must be noted that if you want to drop hats, you will have to press the "=" button instead of Backspace.
Most of the gamers usually figure out stuff like this on their own. However, others constantly find themselves in tough situations like these. The issues can be practically anything – from opening their inventory to trading items from their backpack.
If you find yourself in similar situations, then do not worry. In this article, we will be sharing everything related to dropping items in Roblox and trading them. We have mentioned step-by-step guides on important topics including navigating through your Roblox inventory.
Now, the primary question arises. What device are you using to play Roblox? Is it a desktop or a smartphone? This is important because Roblox has different ways to clear out in-game inventory for different devices.
Depends on what device you are using, we have divided the whole guide into specific sections to provide you the detailed information.
---
How to Drop Items in Roblox Desktop
If you are enjoying the beauty of the Roblox game on your computer, then you might be glad to know that desktop users can manage their inventory easily. Just a press of a button and you are done.
Also, in Roblox, the role of management is quite important. Players do not have infinite inventory space so they have to carry around only the items they want.
Other players often drop the stuff that they do not need. In this case, you can pick up their stuff and add it to your inventory. Jump to How to Pick Items in Roblox section of the post.
If you want to manage your own inventory by clearing out unnecessary items, then follow the steps below.
Open up your inventory by clicking the option that says "Backpack".

You will be presented with all the tools and items you own in the game.
Select the item that you want to drop by clicking it.
Now, to drop the item, press the Backspace key on your keyboard.
The items will be dropped out of your inventory.
Note
If you want to drop hats in Roblox, you will have to select the hat item and press "=" key instead of Backspace.
---
How to Drop Items in Roblox Mobile
Well, to be honest, there is no official way of dropping items on Roblox mobile. The developers did not add the feature to drop items in the smartphone application.
However, there is a bug that allows users to drop items from their inventory. Note that this bug may or may not work on your smartphone.
Follow the steps mentioned below carefully.
Open the inventory by tapping on the Backpack option.
Select the item that you want to drop from the list presented.
When the item is selected, tap on the Chat option on your screen.
As soon as your smartphone keyboard shows up, press the Cross button.
Your item will be removed from the inventory.
You would have to try this method multiple times in order to drop items in Roblox Mobile.
---
Trading Items in Roblox
Roblox also allows the trade of items in the game. Users can easily trade their items and sell them to another player without even meeting them. All of this happens from the game inventory.
If you want to trade items with another player, follow the steps mentioned below.
The first step is to select the Profile of the user you want to trade with.
Click on the three dots (Menu) on the top left and select Trade Items.
Select the items that you want to trade with the user.
Hit Submit.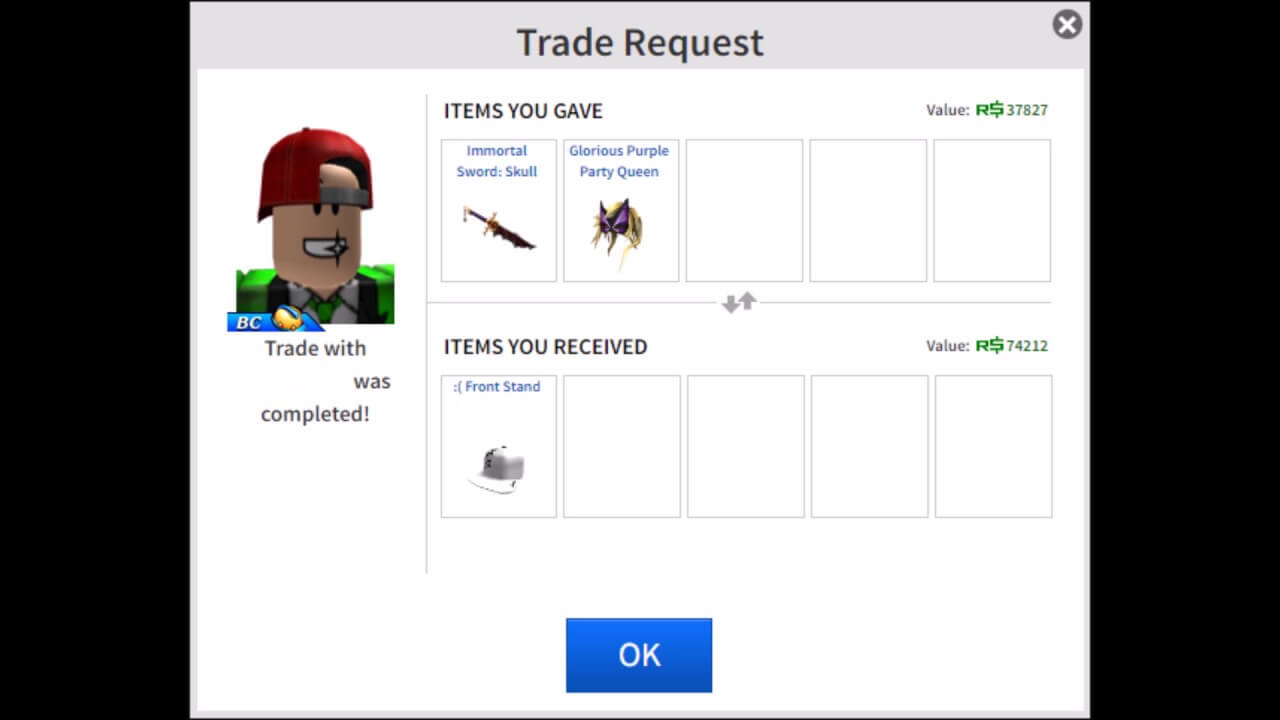 Now, the other user will have to accept the trade request in order for the deal to get finalized.
---
Important Guides
We kept the guides mentioned above short and concise. If you do not know how to navigate through your Roblox inventory, or how to pick up items, then refer to the sections given below.
How to Navigate Through Your Roblox Inventory
Roblox inventory is quite handy when it comes to management. But first, you must know how to open and use it.
To open up your inventory in-game, just click or tap on the option that says "Backpack". You will be presented with a well-structured box with all of your items in it.
Roblox in-game inventory is good up to some extent. A fully filled inventory can take a lot of time to be emptied, and this job can be really tough for any player.
If you want to empty your filled inventory, then the Roblox Online Inventory is the way to go.
To access your inventory online, follow the steps given below.
Head over to the official Roblox website and log in to your account.
Click on Menu from the top left and select Inventory.

Use the sidebar menu on the left to access items of a specific category.
---
How to Pick Up Items in Roblox
Unnecessary items are dropped in the game world by other players. Now, the question that comes to mind is Can we pick these items up?
And the answer is Yes you can. This is an amazing feature because you can easily pick up valuable items that other players have dropped in the world.
You can even ask your friend for the item that you need and can pick it up with ease.
Follow the steps below to pick items in Roblox.
Search for any dropped item in the game world.
Go towards the dropped item and simply walk over it.
Open your inventory and you will find the item there.
Picking up items in Roblox can help you in filling up your inventory with precious items that others do not need.
Note
Make sure that you do not walk over unnecessary items you do not need, otherwise, you will pick them up.
You will then have to drop those items again.
---
Wrapping Up
So that was our take on How to Drop items in Roblox. We mentioned a lot about items, inventory, and trading in the game. Step-by-step guides for trading and easy navigation were also provided above.
Roblox is a game of management. You will have to clean your game inventory every now and then. This will make sure you do not have unnecessary items on you. Also, do not forget to leave any precious items that others have dropped.
If your inventory is clean and empty, then you will face no issues while picking up valuable items. If you have no space in your backpack, then the items will not be picked by your player.
This is why every Roblox player should know How to drop items in Roblox.