[Solved] What is Adobe GC Invoker Utility? – GeekyFlow
Did you just notice Adobe GC invoker utility running at startup in the task manager? Well, you must be wondering why the hell is that process running on startup in my pc?
If you have installed any of the Adobe's software there are chances that you will find this process running at startup in your task manager.
But, if you haven't installed any adobe software in your pc before, and are worried whether the questionable Adobe process is a vulnerable threat to your pc or not, then you are at the right place.
In this article, we have shared everything related to the mysterious GC Invoker Utility, is Adobe it a virus, and methods to remove it from your Windows PC.
Make sure you read the article thoroughly to know everything about this process.
---
What is Adobe GC invoker utility?
The process, Adobe GC invoker utility is developed by none other than Adobe Systems, Inc. The file, AGCInvokerUtility.exe has a .exe extension which clears that it can be executed in a system and run as a system program.
To know more about the process, you can launch the task manager and locate the startup process to check the properties in depth.
To do this, follow:
Launch task manager by pressing Ctrl + Shift + Esc on your keyboard simultaneously.
The task manager will appear. Click on "Startup", locate the process.
Now, right-click on Adobe GC invoker utility and click on properties.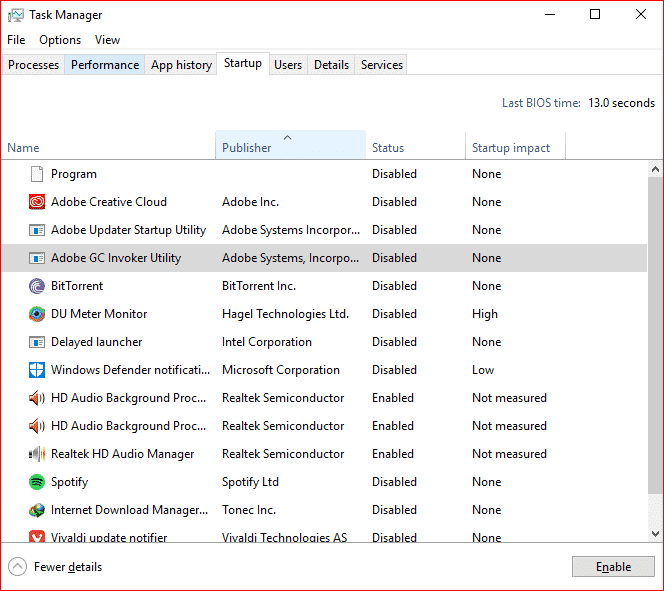 There are a lot of rumors about the process being a malware, but the Adobe community professional has verified that GC Invoker Utility is not a virus and will cause no harm to your system in any possible way.
---
Is AGCInvokerUtility.exe a Virus?
As the Adobe community professionals have verified that the Utility is a verified process that is required by Adobe software, it makes this clear that the process is not a virus.
In your system, the process by default is located at, AGCInvokerUtility.exe is located in C:\Program Files (x86)\Common Files\Adobe \AdobeGCClient, you don't have to delete, execute or edit this without any prior information.
Here's a Virustotal scan report of GC Invoker Utility.
---
Is it safe to Disable Adobe GC Invoker Utility?
We recommend you not to interfere with any of the official files of Adobe Systems. GC Invoker Utility will not cause any harm to your pc, therefore you should let the process run in the background and do its job.
But if you are still concerned about disabling the process, you can check out the methods below.
---
Method 1: Restart the computer in safe mode
The very first method we recommend you to try is by restarting your PC in safe mode which turns the majority of the third party process including Adobe GC Invoker Utility.
Methods to restart a computer in safe mode may be different, however, the prominent method is by following the steps below.
Click on the start menu.
Click on the power options.
Now, click on the restart button while pressing down the SHIFT key, make sure you follow this step correctly.
Your PC will now restart with several boot options.
Select the troubleshooting icon and select startup settings.
Now, select the advanced options  >> choose the reboot option >> Enter safe mode with networking.
---
Method 2: Delete AGCInvokerUtility.exe
Press Windows + R to open the Run Dialog box.
Type in regedit, and hit enter.
Press CTRL + F and type in AGCInvokerUtility.exe to go to the files.
Now, right-click on the folder and delete it.
---
Final Words
So, this was our guide related to Adobe Invoker Utility. The process is not harmful to your windows system in any possible way and will never cause any trouble.
Some antivirus may mark this as a threat but you don't have to worry about this. The file is digitally signed by Adobe Systems.
If you still want to get rid of the Adobe GC Invoker Utility, follow the methods that we have mentioned above. If you have any other queries, please drop a comment.