7 Best Short Throw Projector: Top Picks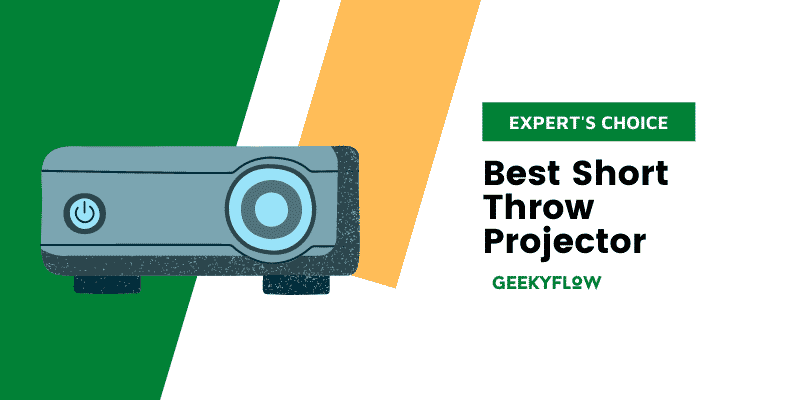 There is nothing that can beat the feel of watching a blockbuster release amidst a cool movie theater. But given the circumstances, going out is probably not the best option. So, what if you bring the theater to your home? Well, short-throw projectors are here to save the day. 
These short-throw projectors are best suited for small rooms and especially these modern thornton place apartments seattle wa; these short-throw projectors completely transform your home into a movie theater.
Their distance might be short, but their abilities certainly aren't. Complete with excellent HDR and 4k resolution, it will bring back your memories from the days of theater. 
As a newbie, you might be facing the decision to select the best model off the market. But worry not! We have rounded up the best short throw projectors in the market in which you completely put your trust!
---
Best Short Throw Projector List
1. XGIMI Halo short-throw projector
XGIMI brings you a highly efficient short-throw projector with its new mode 'Halo.' Despite looking a bit bulky, the projector is powerful and gets its job done. With a 1.2:1 throw ratio, it can produce displays from 30 inches to a massive 300 inches. This short-throw projector requires just a 2.67-meter distance to achieve optimal viewing over a 100-inch screen. 
The offered brightness of 800 lumens is a little less than one would expect from a short-throw projector. The contrast ratio, too, falls behind with just 1000:1. Combining these two specs translates to a display that lacks white brightness. The black depths are pretty neat, but the details feel scant.
With a ±40 automatic vertical and manual horizontal keystone correction, you won't have enough adjustments to get the picture quality right. However, the 1080p resolution promises to keep a consistent sharpness. Some scenes might be too bright or too dull, but the details in these scenes are crisp. The colors are certainly vivid and look good on the screen.
It comes with both wired and wireless connectivity! The wired medium comes equipped with an HDMI port, USB, and a 3.5mm headphones socket. Bluetooth availability makes up for the wireless connectivity, although it supports the connection of just one device at a time. 
You get an intelligent remote control that works through voice simulation; you just need to speak your instructions! The device comes equipped with a Built-In Android TV through which you can download apps like Hulu, Disney+, etc., to stream.
The speakers are pretty loud and suffice for small spaces. The unit itself supports a 4 hour run on the battery and hardly produces any noise.
Pros:
Portable design

It comes with a built-in battery

Lamp life of 30,000 hours

Crisp display
Cons:
Hard to adjust keystone

Battery life is less
---
2. WEMAX Nova Short Throw Laser Projector
Wemax presents to you the best 4k short throw projector. It comes equipped with a laser throw technology that propagates three lasers – red, blue, and green- onto the screen to get the sharpest and detailed display possible. Relying on the DLP screen, it is amongst the few projectors that do not sacrifice quality. 
With a brightness level of 2100 lumens, the projector is the brightest under this range. Complete with a 3,000:1 contrast ratio, the display will come out to be vivid and clear. The lumen is considerably less for a short-throw project and would give a washed-out look under ambient light.
But it will be consistent. It effectively avoids light diffusion to provide the same level of brightness from edge to edge.
It suffices to say that the picture quality is immaculate. The sharp laser technology results in a 4k display with a great job on details and depth.
The wide color gamut range brings out all the subtle nuances of the color. The colors appear realistic and natural without being too saturated. 
It comes with connectivity options between 3 HDMI ports, video input, and dual USB ports. The device can also connect wirelessly via Bluetooth or Wifi. Both of these wireless mediums can also connect external speakers to the device. 
The speakers are certainly better than what you would expect from standard home theater projectors. It gives a clear dialogue output with enough bass quality.
The projector directly connects to the app store to provide you with access to over 5 thousand applications, including HBO Max, Hulu, Disney+, Showtime, and much more. 
Pros:
Clear 4k resolution with beautiful detailing

Strong speakers

Ultra short throw 

It comes with Bluetooth and wifi connectivity

It supports almost all streaming apps
Cons:
Brightness is a bit underwhelming

No Netflix streaming
---
3. Optoma GT1090HDR short-throw projector
Optoma is the best short throw projector for gaming. It is amongst the first projectors to incorporate laser technology into a gaming environment. All of its impressive specs combine to give you the best experience, complete with long maintenance-free life and the latest DuraCore laser technology. 
The Optoma projector produces a brightness of 4,200 ANSI lumens which is the brightest that you will see on a home theater projector. It works just as well in ambient light as in a dark room. And the contrast ratio of  300,000:1 is the highest ever on our entire list.
This ratio emits from the Extreme Black technology of the projector and gives a display that accentuates every minor detail. 
This ultra-short throw projector achieves a perfect diagonal image over a 100-inch screen in just 4 feet. The extremely high color accuracy reflects the true tone from your devices to the screen.
It can easily attain a 4k display which comes with a particular focus on sharpness. The projector also comes equipped with various modes that automatically adjust settings according to the mood. 
Some enthusiasts might get disappointed with the 1080p limit of the HDMI port, but worry not; it comes with various other ports to support 4k resolution!
Besides the two HDMI ports, you get a VGA in/out, two USB ports, audio in/out, and a micro USB. Unfortunately, it lacks Bluetooth connectivity, so you have to rely on just wired mediums for connection. 
The speakers are great for indoor gaming as it is pretty loud! The quality and depth, too, are surprising for its price but we certainly aren't complaining!
The projector promises to survive over 30,000 hours of usage, and simply said, it is enormous. 
Pros:
Highest contrast ratio ever

Very low input lag

A fast refresh rate of 120 Hz

Ultra short throw distance

Remote has a backlighting
Cons:
No zoom in option

Uncomfortable remote

High pitched fan
---
4. ViewSonic X10 4KE short-throw projector
This Viewsonic X10 4KE is one of the best Ultra short throw projectors on the market. It hardly takes 3 to 4 feet for this projector to cover a 100-inch screen. And within just a few feet more, it can display over 200 inches.
However, the projector lacks optical zoom, so the projector needs to be manually adjusted. 
The 2400 lumens of brightness is a touch less than what you would expect from a projector of this price range. Nevertheless, the laser-based projector provides a bright enough display that can work in a reasonably dark room.
With the help of a 12000:1 contrast ratio, the display is neatly lit and has a nice saturated color.
According to the input requirements, you can adjust the resolution between standard (720p), high (1080p), and 4k display. The details in the 4k resolution are simply beautiful and won't disappoint you with the color accuracy and vividness. Dialing the colors right might take some time but once finished, all you get is perfection.  
You will get two HDMI 2.0 ports, one USB-C port, an Ethernet port, and a bundled Wi-Fi dongle for connecting the projector. To use wifi as a wireless medium of connection, you need to hook up both of your devices under the same network.
Although it does lack Bluetooth connectivity. So, the only external speakers you can use are the wired ones. 
The projector is pretty luggable rather than portable. The bulky nature makes it hard to carry around. The speakers are surprisingly robust and produce good quality. They are enough to cover a small space. 
Pros:
Excellent 4k display capacity

Pretty loud speaker

LED has a long life 
Cons:
Low brightness level according to the price

No optical zoom

Only vertical keystone adjustment 
---
5. Optoma GT1080HDR short-throw projector
The Optoma GT1080HDR is probably the best Full HD resolution short throw projector under its price range. It defeats all its competitors in terms of performance as well as features. The slow lag speed with higher response time also makes it perfect as a short-throw projector for gaming. 
The projector's high white brightness is due to its 3,800 ANSI lumens and  50,000: 1 contrast ratio. The projector pays special attention to all minor detailing to give the sharpest display possible. Even in the darker scenes, the differentiation between characters and objects is pretty visible. 
As mentioned, the projector hosts a 1080p native resolution, which you can bump up to 4k. The HDR10 technology that it comes equipped with ensures the enhancement of picture quality. Color accuracy and black depths are undoubtedly high- which adds to the already excellent display. 
For the input, we get two HDMI ports (only one supports 4k and HDR), VGA in/out, and audio in/out. And unfortunately, it lacks any access to wireless connectivity. So, if you do want to connect your Bluetooth speakers with the projector, you would need to invest in a Bluetooth transmitter kit. 
It stands true to its name and hardly takes a distance of 4 feet to cover a display of 120 inches. And the strong lamp life is here to support this great projector. With 15,000 hours under its belt, the projector will survive over a decade of continuous usage. 
Pros:
Very short throw distance

HDR and 4k support

3D display 

Lag-free gaming experience

High contrast ratio

Long lamp life
Cons:
Lacks carry case

Feeble speakers
---
6. BenQ HT2150ST short-throw projector
BenQ HT2150ST is amongst the best gaming short-throw projectors that we have seen so far! The projector hosts a sharp display with a fast lag time. Couple it with the ample light output, low fan noise, and good sound output, and we have got the perfect gaming short throw projector on our hands. 
It comes with decent 2,200-lumen brightness and a high 15,000:1 contrast ratio. There are various modes in the projector, with the default one being the Game Mode.
This is the ideal mode for gaming as it automatically adjusts to the best settings for it. Under this, you get a cooler color temperature with a focus on white and black depths. The brightness is enough for an ambient or darkroom as well. 
All the other modes – Cinema, Game Bright, and Bright modes- adjust specs according to specific situations. But it is the picture quality that remains constant.
With a native resolution of 1080p, the projector gives the sharpest picture quality imaginable. It provides rich color tones with accurate color determination and a crisp display. 
We get 2 HDMI ports, One type- A USB port, a type-B mini USB port, and an audio in/out for connecting the devices. This projector provides no wireless connectivity due to the lack of Bluetooth or wifi. In the scenario that you do require a Bluetooth connection, then you can use a Bluetooth receiver. 
The dual 10-watt stereo speakers are good enough for an indoor gaming session. Even at the maximum volume, it avoids any distortion in the output.
It does, however, lack good bass quality and hence not suitable for a movie night. The fan noise, too, is very low, and you won't notice its presence at all!
Pros:
Bright, colorful, and sharp display

It covers a 100-inch screen in just 5 feet

Low input lag

Lightweight and portable

Affordable price
Cons:
No lens shift 

Bright mode lowers the projector performance
---
7. ViewSonic PJD7828HDL short-throw projector
Viewsonic launched a new version of its projector, that is, PJD7828HDL – the best short throw projector under 1000 dollars. Although being marked at such an affordable price, it does not compromise on quality. It is perfectly suitable as a gaming projector with its specs, yet it also promises to make do as an excellent home theater unit.
The projector is definitely bright enough at 3,200 lumens. And with the 22000:1 contrast ratio, the display is undoubtedly a treat. Combine these abilities with the fact that you can extend the display up to 300 inches, and you get set for an outdoor movie night with your friends!
It is also suited as a business projector since the meeting rooms tend to have some ambient light, and it works just as well under it.
The 1080p native resolution with a Viewsonic exclusive 'Brilliant color' technology gives the best quality display one can ask for! There is absolutely no hint of screen bleeding or pixelation in the display offered. Instead, it ensures that the projected screen is vibrant and the colors vivid. The screen works just one frame behind to give an almost lag-free experience.
The only means of connecting your devices and projector is through wired means. It lacks Bluetooth connectivity, so you will require some different ways to connect your Bluetooth speaker.
As for the wired medium, we get two audio inputs (one can double as microphone input), two HDMI ports, audio output, and some USB ports. 
The lamp life is pretty standard for this range – 4000 hours in regular use and 10,000 hours in Eco mode. The speakers are very loud and are enough to fill a small space. You have to compromise on quality as the speakers lack decent bass. 
Pros:
Excellent image quality

Lag-free display

Massive screen coverage

High brightness level
Cons:
No Bluetooth connectivity

The fan is pretty loud
---
What to look for in a Short Throw Projector?
Short-throw projectors are an investment that you simply cannot buy on a whim! Here are specific specs that make up the best short-throw projector that you need to be on a lookout for:
Resolution
Short throw projectors are readily available under two resolutions – HDR (1080p) and 4k. The 4k definition projectors are more detailed than their counterparts, focusing on sharpness and lack of blurriness. But of course, these 4k short-throw projectors are on the higher end of the price spectrum. 
However, we would recommend 1080p resolution for regular use as it fulfills all the needs of a home theater projector while still working under a lower range of prices. 
HDR support
HDR support is not a 'must have' but rather a 'nice to have feature. Short throw projectors under 1000 dollars tend to forego this feature as they lack brightness support. But if you plan on a premium projector, then you can look out for it.  
Connectivity 
Now, you certainly don't want to end up with a box that does not support your devices. You need to ensure that the short-throw projector comes with all the required ports for the wired medium. As for the wireless medium, you need to ensure that the short-throw projector has a Wifi or Bluetooth connection. 
Sound
Speakers from short-throw projectors aren't known for quality and sound. In the best-case scenario, they will be able to fill up your room during a movie session. But of course, during an outdoor night or hanging out with a group, it is best to rely on some external speakers.
But certain short-throw projectors lack audio out port. And, if you don't want to bother with connecting speakers through HDMI or Bluetooth, you only need to consider the sound quality. 
Brightness
The projectors use lumens to determine the brightness level. The ANSI help determine how bright the projector's display can be. It doesn't need to be necessarily high. If you can completely darken your room, then you can make do with a regular amount of brightness. However, if it's the opposite, then the highest amount will be much more suitable. 
For a room with more lighting, you need to throw in at least 2000 to 3000 lumens. At the same time, darker rooms can work with just 1500 lumen. 
Throw Distance
Throw distance refers to the length required for a projector to achieve optimal display without any blurriness.
Short-throw projectors generally require less than 5 to 6 feet to cover a 100-inch screen. If the throw distance goes beyond 6 feet, then it would no longer be a short-throw projector. 
Lamp Life
For traditional lamp-based projectors, lamp life is an important determinant. It refers to the hours that the lamp can survive.
Remember that lamps are one of the most integral and hence expensive parts. Located in quite a niche, they are hard to replace as well. So, given these facts, it is best to get a lamp that won't require you to change it every few years.
If you are a light user, then 10,000 hours is enough. But for the more heavy users, we would recommend at least 20,000 hours. 
Verdict
All of our listed models are the best short throw projectors you can purchase in the market! They all host unique virtues that set them apart as one of their kind. 
But the one short throw projector that stands out in all aspects is – Optoma GT1090HDR short-throw projector. The display is stunning with the highest ever specs.
Its 4k display produces the sharpest display over the most accurate color quality. And for the people looking for an ultra-short throw – it achieves 100 inches on just 4 feet! 
Must Check: