Best projector under 1000: Handpicked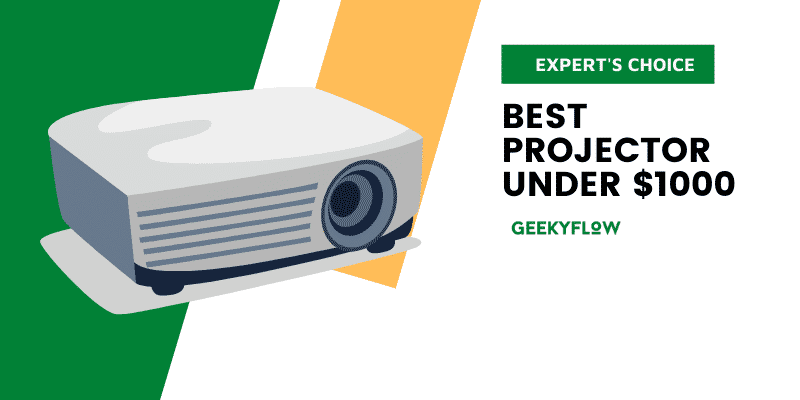 Waiting to watch the latest action in the Bond movie in theaters but afraid to go out in these circumstances? We have got you! Better than setting out, you can bring a theater right at home. Televisions might serve the purpose but nothing beats watching movies through a projector. They give an immersive and thrilling experience right at home!
So where to begin? Finding a projector that works without any hassle with the quality, display, resolution brightness, scaling, or positioning might seem a tough task. But is it really? Not at all, so ease your mind! We have listed down the best projectors under 1000 dollars complete with a buying guide. So, let's get into it!
---
Best Projectors Under 1000 Dollars
1. Epson Pro EX9220
The Epson Pro EX9220 is our top contender as the best projector under 1000 dollars. The projector stands out for its Dynamic Black Technology as well as its immaculate display quality. The device has been specially constructed keeping in mind business presentations. But this certainly does not mean that you can dismiss the projector for gaming or watching movies.
The brightness of this 3LCD projector is its key selling point. With the 3,600 lumens of light, the projected display is clearly visible on the screen. It works perfectly under ambient light without having to blackout the room. The contrast ratio of 15,000:1 contrast ratio is a little less for an LCD projector but works perfectly for presentations.
The maximum screen size offered by this business projector is 300 inches, which is enough for any corporate-level presentations or group movie nights. The picture quality is immaculate and gives up to 4k resolution. This implies a lack of blurriness or evident pixels in the images.
For connecting devices wirelessly the company offers you an app- Miracast. Although the app is just limited to Android and Windows 8.1 and above. Through the screen mirroring, from the app, you can directly showcase the content from devices on the screen. If you require, an HDMI port can be used for a wired medium.
The lamp can sustain for 10,000 hours and comes with an industrial warranty of 1 year. The biggest complaint about this projector under 1000 we can discover was the fan noise. Users have reported loud noises emitting from the device which disrupt the viewing experience. Besides that, the sound of the speakers is pretty average and would require external speakers.
Pros:
Excellent brightness level
Long lamp life
Easy wireless setup via QR code
Large screen size
Cons:
Loud fan
Comparatively less contrast ratio
Offers wireless for just Android and Windows devices
---
2. Epson Home Cinema 760HD
Epson home cinema 760HD is one of the best projectors under 1000 if you are looking for one on the lower end of the spectrum! The specs offered under the device are certainly impressive, especially considering the price range. 3LCD is definitely the plus point that makes it stand apart from other projectors of this range. In fact, the majority of the features resemble the projectors which are much more expensive.
The 3,300 lumens brightness with a contrast ratio of 15,000:1 ensures that the display is great under any situation. The high brightness is certainly impressive and suited for basements that tend to have some source of light present. The contrast ratio makes viewing under darkness a treat. You can easily make out the details from even the darkest of the screen.
The offered resolution of 720p (1280 x 720) is certainly on the lower end of resolution, but still- it is HD resolution. This implies that the pictures are still crisp and clear, just not what you will expect from the more expensive models. Epson is known for its image quality, so we can rely on them to not disappoint us despite the value.
The Epson home cinema features two USB ports and 1 HDMI port. Don't let this one HDMI deter you away, because it also comes with one dedicated PC connection and a display port connection. The device lacks Bluetooth, so you would have to rely on either the internal speakers or connect wired ones. The one most evident thing absent is the audio out jack which you can compensate with an AV receiver.
The fans from this device are loud at 37dB. You can lower the noise by switching over to the ECO mode. Though this mode does reduce the brightness a bit, the difference isn't too obvious. The throw distance of a maximum of 130 feet is pretty neat as well.
Pros:
Bright display
Impressive image quality
Dedicated display port
Large throw distance
Cons:
Loud fans
Lacks Audio Out Jack
---
3. BenQ TH671ST
BenQ TH671ST is our recommended model as the best gaming projector for under 1000 dollars. Thanks to its short-throw ratio, large screen, low input lag, and fast response, it stays true to its title. Another point that adds to this meticulous gaming projector is the long lamp life. The life of 10000 under normal mode and 15,000 under Eco Mode, safely keep it well above its competitors.
The contrast is available in the 10,000:1 ratio while the brightness is 3000 lumens. The projectors host a special technology called LumiExpert. It scans the environment, checks the availability of light, and then introduces an optimal amount of brightness. It also depends on the mode chosen, and won't go beyond its maximum limit.
Since it is a short throw gaming projector the distance to achieve optimal sharpness comes down to 5ft over 100 inches of screen. We will recommend using the projector for more short distance activities than long. The image quality is stunning with bright and vivid colors. The contrast is perfect for darker scenes and highlights contents even with ambient light.
The connectivity panel comes with VGA, two HDMI ports, audio in and out, USB service, RS232 port, and mini-USB port. But the biggest loss you will feel is the lack of Bluetooth and Wifi. The absence of both effectively removes any chances of screen mirroring or Bluetooth speakers.
The speakers are surprisingly very loud and clear. And considering the bad quality of most projector speakers, we were very impressed! The speakers have a good sound quality and are perfect within a small room. Although you will require external speakers in outdoor settings.
Pros:
Ideal as a Portable gaming projector
Short throw ratio
High native resolution
Incredible image quality
Cons:
Loud fan sound
lacks vertical lens shift
---
4. BenQ HT2050A
This BenQ model is the best projector under 1000 for streaming movies especially 3D movies (with glasses). The projector is ideal for households that have kids. The picture quality reflects the true tones from the source, and you certainly won't notice a difference. This DLP projector also ensures lag-free streaming which makes it perfect for a gaming session.
With this BenQ projector, you get a brightness of 2200 Lumens which is good enough to sustain a watch session in a darker room. But it can be troublesome in a room with lighting available. The low input lag experience it offers certainly attracts all the gamers. You will not feel a difference with just 16 milliseconds of lag!
The brilliant display is possibly the best you can get on the market. A Spectacular Full HD display with a resolution of 1080p gives a great display with hardly any noticeable blurriness or pixelation. The phenomenon is largely thanks to its x speed dual RGB color wheels.
The projector comes equipped with power, VGA input, RCA Video, and R/L Audio input, 2 HDMI ports on the back. Unfortunately, this model lacks Bluetooth. So, for connecting audio, you would have to rely on the audio jack while for devices we recommend an HDMI port.
It is capable of covering a screen of 100 inches and is basically a short-throw projector. With a throw distance of 8.2 feet, you won't be able to take it very far. So, if you require a projector for showcasing movies over a large screen, then this one won't be ideal. The warranty of 3 years is the largest that we have ever seen in a projector of this range!
Pros:
DLP technology with 3D support
Just 16 milliseconds lag
Immaculate color quality
Long warranty
Cons:
Comes with a maximum screen reach of just 180 inches
2200 lumens
---
5. Epson Home Cinema 2250
The Epson home cinema is a streaming projector that works with android as well! This projector introduces the Wifi and Bluetooth options that were amiss in our projectors listed so far. So, if you missed their presence, here you go! It steps its game up with the increased white brightness and image adjustments.
The 3 LCD design ensures that the color brightness comes down to the same as the white brightness. And given this fact, the image brightness matches the 2700 lumen rating. The contrast ratio is 70,000:1, the highest on our list ever. So, you will be able to see the night scene as clear as the day! This also implies that it works perfectly under ambient light, and you wouldn't have to close all the blinds.
The Epson home cinema is best suited for 3D movies! The full HD display with 1080p native resolution gives a great image quality. Its brightest mode offers high color accuracy with a certain sharpness. The throw distance is large as well. You can easily stretch it to 15 feet without losing any clarity. It can also cover a 130-inch screen without any hassle.
Since this HD portable projector relies primarily on wireless connection through Wifi and Bluetooth, it foregoes most ports. Through wireless screen mirroring one can easily reflect the content from the device to the screen. It features just a single HDMI port that can connect your cable/satellite box, gaming console, Blu-ray Disc player, or streaming device.
The onboard 10-watt speakers produce great sound quality with enough noise to fill a large room. So for indoor streaming, these speakers are enough! For outdoor use, however, you can use external speakers.
Pros:
Significantly higher contrast ratio
Best image quality
Wireless connectivity
Bright 3D mode
Cons:
Single HDMI port
Lacks support for HDR and 4k
---
6. ViewSonic PJD7828HDL
ViewSonic PJD7828HDL is the best projector under 1000 dollars that ensure value for money. This entry-level DLP projector certainly leaves a mark with its well-situated specs and amazing design. It is best for a movie night with a large group of friends. Its capability to cover almost 300 inches of screen, makes it the projector with the largest coverage!
And it makes sure to maintain brightness over that large screen. The 3200 lumens and 22000:1 contrast ratio work together to give the brightest screen possible. Even if your friends are situated in quite a distance, the screen will be clearly visible. The high brightness level makes it perfect for business presentations as they tend to be under ambient light.
You can also rest assured over the pixelation over the large screen. It gives an immersive home theater experience with its Full HD display. The 'Brillaint color' technology works well with its projector to give a richer and more vibrant display. The display is almost lag-free with the frames working just one frame behind the real-time. So gaming in this is a treat too!
It comes with the typical connections as one would expect from a projector. We have got two HDMI ports, two audio inputs (one can double as microphone input), audio output, and USB ports. Sadly it lacks Bluetooth connectivity. So if you do want to connect your Bluetooth speakers, we recommend getting a transmitter.
This best projector under 1000 has an in-built 10 watt speakers are surprisingly loud and enough to fill a small room. The sound quality is pretty impressive as well! The projector claims to give 4000 hours of full power lamp life and 10,000 hours under ECO mode. Life is standard under this range and enough to sustain a good few years.
Pros:
Impressive brightness level
Superior picture quality
Lag-free display
Large screen coverage
Cons:
Lacks Bluetooth connectivity
Loud fan noise
---
7. Optoma GT1080HDR
Optoma GT1080HDR is probably the best short throw projector under 1000 dollars. The projector has a throw of just 4 feet. So, you can easily set it up near the screen and use the projector. The projector is perfectly suited for gaming. Given its distance and lag-free experience, you will get some insane gaming sessions!
Adding to that gaming experience will be the display offered by the projector. It comes with  3800 lumens of high brightness and an unbelievably high contrast ratio of 50, 000: 1. Adding these two together will give you an especially bright screen. It works perfectly under ambient light and won't disappoint with its white brightness.
The display also ensures to reflect the true color from your device, in 4k definition! The vibrant display coupled with the high color accuracy gives some of the best scenes. You can easily switch between 3D mode, Game mode, and HDR mode according to your requirements. Each of them hosts a specific setting and fits them accordingly.
This best projector under 1000 comes with just 2 HDMI ports, and even then only one supports 4k resolution. This is certainly disappointing considering that it lacks a Bluetooth connection as well. The only roundabout to this problem is using an HDMI transmitter kit or a soundbar (or any other similar accessories).
The speakers are pretty loud and will be enough for an indoor movie night. It falls a bit behind with the quality, but nothing too obvious. The lamp life is definitely its best part. With a life of 15, 000 hours, you can use it every day for four hours and still be able to continue for more than 10 years!
Pros:
HDR and 4k display
Short throw gaming projector
3D mode
Amazing video quality
High contrast ratio
Lag-free experience
Cons:
Lacks Bluetooth
No carry case
---
Guide To Choose The Best Projector Under 1000 Dollars
Choosing the best projector under 1000 becomes an easy task when you know what exactly you want. Once you understand your specific requirements, you will find the task of selection very easy.
You certainly don't want to end up with a box that is unable to fulfill all your desires. So, avoid any such circumstances, read the following factors which makes the best projector under 1000 dollars:
Lumens
Lumen is the measurement to determine the brightness produced by a projector. The determinant of brightness that you will require is based on the exact location of the projector. You wouldn't necessarily need a bright display under all settings.
To calculate the amount required, check the lighting of the room. If the room is fairly dark or you can make it dark, then you won't require a very bright projector. But if the light presence is high, then a very bright projector will be suitable. We will recommend a minimum of 2000 lumen despite the setting.
Contrast, and resolution
Contrast is the difference in the dark and light tones in the display. It factors in understanding how much is the white images are brighter than the black images.
A high native contrast ratio is the indication of better picture quality. So, in terms of ratio, the highest you can get better would it be. This ensures that you get a wider range of colors and light in the image showcased by the projector.
Another factor influencing picture quality is the resolution offered. Resolution indicates the pixels' number in the image projected. Typically the resolution offered under this price range is 1920 x 1080. With an increase in this number, the details become even finer.
Noise Level
The noise produced by the projector while working should be very less. In other cases, it will significantly obstruct the voice from the movie or during gaming.
The minimal acceptable noise is 30 dB. Be it a small or large projector and suited for gaming or movies, the noise produced is very annoying and it is best to avoid any such situations.
Connectivity
In any case, it is important to have a projector with the maximum ways of connection. In an emergency, if one of your devices refuses to corporate, then another should be able to take its place. The presence of different ports or wireless options enables it to be used under any circumstances.
A projector should also be able to sustain all your available devices regardless of the fact you might not face an emergency. This is so because some projectors do not support Netflix, or Amazon Prime through screen mirroring. In such cases, ports become the only option to stream these contents.
The given ports are necessary to establish the connection:
Digital Connection – DVA, HDMI port
Analog Connection – VGA
Screen size
Here, the screen size refers to the part of the screen covered by a projector. It refers to the capability of the projector to produce the largest or smallest projection while still retaining its resolution. The best quality comes down to somewhere middle of this range.
When considering the maximum and minimum screen size, be sure to think about where you are most likely to use the projector and whether the wall or screen you will use is large enough to accommodate the minimum recommended screen size.
Display technology
There are two common technologies used by projectors for display- DLP, and LCD. Each feature ability that is useful depending on user needs:
Projectors running on DLP technology tend to be a more expensive end of the spectrum. But they provide displays that match that range. They give an excellent image presentation and high contrast ratio.
Projectors with LCD technology tend to focus more on brightness and color quality. Their colors pop out more on the screen. Their focus abilities are definitely their selling point which makes them suitable for high-end use.
Other Features To Look For
Some other features of the projector that you need to be on a lookout for include:
Optical zoom- It will allow you to zoom in and out efficiently. It is especially helpful if you are sitting in a long distance.
Lens shift- It is used to avoid motion blurriness in the picture and enhance its quality. Even while on the move, the feature maintains the clarity of the picture.
Keystone correction- This feature is helpful in avoiding distortion in images and achieving proper apprehension.
Throw distance- Based on position and viewing angle you need to decide on the throw distance. If you are sitting far then long throw and if near then a short throw will be suitable.
---
Verdict
All our aforementioned projectors are unique in their own accord and rightfully earn their place as the best projector under 1000 dollars. But the one projector that stands apart is -Epson Home Cinema 2250.
The Epson Home Cinema gives an all-around composition of specs that are amiss in most of the projectors. The HD image quality is immaculate with a tasteful spread of vivid colors. It also comes with both wired and wireless connectivity, with options between Wifi and Bluetooth. It hosts the highest contrast ratio on our list that effectively reduces the rainbow effect!
Also Check: