10 Best Projectors Under $500: Reviewed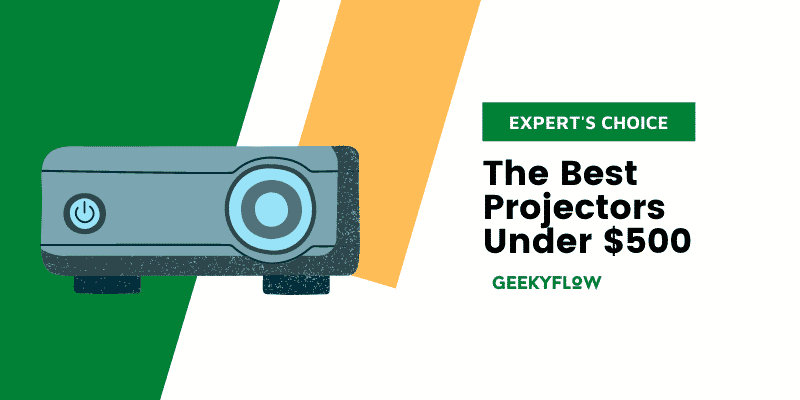 Are you looking for an excellent projector for just under $500 to replace your old one for more precise and clear images? You have come to the right place!
With projectors being in demand for daily usage, classroom teachings, and even business presentations, one has to pick the best suitable for their requirements.
Many models in the market promise significant graphical outputs, longer shelf-life, and massive throw ratio, which will confuse you on what to buy. 
Here we have compiled our top ten picks for projectors under $500 for hosting events, meetings, movie sessions, and even lectures with appropriate features and detailed product reviews. Look no further and give it a read!
10 Best Projectors under 500 Dollars
1. BenQ WXGA Business Projector (MW560)
The first thing a buyer looks at in a projector is the build quality and the resolution of contents and images projected by the device on a white screen. Considering this aspect, the BenQ WXGA business projector does an excellent job in delivering crystal clear images fit for any environment.
The projector has a brightness of 4000 lumens and a 20000:1 contrast ratio making your images stand out when displaying presentations and videos.
For its price range, the BenQ projector offers a DLP technology to present sharp images without needing a filter, have better response time, and is also capable of 3D image projection.
The device has a minimum throw distance of 1ft. Auto keystone correction for self-adjustable lenses reduces manual operation for zooming or focusing on images.
That is not all about this mini device; weighing only 7.7 pounds makes it the lightest projector. It has a fast transmission rate due to the HDMI port, and its dual nature allows multiple connectivities with various multimedia devices. 
Ergonomic retractable foot and auto vertical keystone makes the projector easy to set up and fast image alignment for proper screening sessions. The smart Eco mode gives 70% extra lamp life for prolonged usage.
Pros:
Easy installation

Great picture quality

Excellent contrast ratio

Compact in size

Great projector for home screening
Cons:
Keystones in one direction only

Short throw distance
---
2. Nebula by Anker Mars II Pro
Are you in need of the best home theatre projector under 500, which works the best in dimmer environments? Nebula is your pick! DLP IntelliBright technology of the projector delivers luminous 500-ANSI-lumen images at the clarity resolution of 720p for breathtaking video quality.
The projector has a throw ratio of 100 in at 8.73 ft; 80 in at 6.99 ft; 60 in at 5.22 ft; 40 in at 3.48 ft to fit your needs and requirements whether you want to screen movies indoors or outdoors. Just keep it mounted on your table, plug it in and turn it on for your movie screenings!
The projector has dual 10W speakers for fantastic sound at deep and resonating bass for an exceptional outdoor movie experience.
The lamp life exceeds performance with 30,000 hours of durability and automatic focus adjustment for quick image screening. 500mH battery delivers upto 3 hours of continuous playback can be easily charged using an AC adapter, making it fit for households and parties. 
With HDMI and USB 2.0 ports, easily plug in your devices, including laptops, PlayStation 4, Xbox One, Nintendo Switch, and more to get the most out of your mini projector. The Nebula projector also houses copyrighted content providers for you to easily watch Youtube, Netflix, Hulu, and more with Android 7.1 for hours.
The box comes with Nebula Mars II Pro, power adapter and power cord, quick start guide, remote control and battery, 12-month warranty, and customer service. Have no worries when choosing this model for home usage only under $500!
Pros:
Android 7.1 OS

Dual 100W speakers

Long lamp life

Projector and Bluetooth mode

Automatic focus

Adjustable throw ratio

Light-weight and portable

Good in the dim atmosphere
Cons:
Low native resolution

Average picture quality

Outdated software

Fewer input options
---
3. YABER Y30 native projector
Introducing the first projector with a 50 ° 4D keystone correction function to ensure the projected image is always a standard rectangle both horizontally and vertically, YABER Y30 is an excellent pick for professional and school projecting sessions. 
Y30 is a ceiling-mounted projector that users can operate via remote control to adjust the screen size, zooming, and even the throw distance from just one idle spot. It delivers a native 4k resolution of 1920 x 1080p to make your viewing experience of top-notch quality.
Remarkable 8000 lumens brightness and a high dynamic contrast ratio of 10000:1 give clear and precise images without downscaling or compression, four times higher than 720p HD resolution. 
A 5 layered glass lens assures the best screentime along with projection size ranging between 45″ to 300″ depending on the throw distance (1.5 – 5.5 meters).
Built-in 3W dual speakers enable an excellent audio experience and an advanced cooling system that guarantees no noise or overheating from the projector.
Equipped with 2 HDMI ports, 2 USB ports, a VGA port, and an AV port, the projector quickly connects to almost every multimedia device, including gaming consoles and Chromecast, for an all-rounder performance. 
Extremely suitable for outdoor viewing and professional settings, Y30 makes the best projector under $500 in such a vivid atmosphere!
Pros:
4D keystone correction

Good for professional work

4K resolution

Built-in speakers

Variety of ports

Massive screen size

Good cooling system

Long lamp life
Cons:
Ceiling mount

Not portable 

Low sound quality
---
4. Fangor 5G Wi-Fi projector
Fangor 5G projector is a one-go for a projector to fulfill all your needs. Providing stable Wi-Fi connectivity with any electronic device, simply mount it on a table and screen your favorite movies without plugging it in!
Get full HD images and videos from the projector holding a native resolution of 920 x1080P, contrast ratio of 10000:1, and 8500 lumens brightness.
It delivers comfortable images to look at and is bright enough to work even in a well-lit room. Fangor projector also supports 4k videos and streams, which offers crystal clear and consistent visuals 80% sharper than other 1080p projectors.
A ±45° digital keystone correction lets you adjust the digital screen (upto 300-inches) with just one click via remote control.
A dual screen-sync option lets you choose between a manual mirroring screen using a USB cable or through a Bluetooth 5.0 connection.
Twin 2 x 5W stereo speakers deliver an optimum sound experience through your movie sessions. 
Multiple connectivity ports allow you to use the projector for any purpose like screen-casting, gaming, presenting, or even for school lectures. With a 30-days return policy and 3-years of technical support, bear no issues and enjoy this quality projector to the fullest!
Pros:
Big screen size

High native resolution

Brighter images

Wireless screen mirroring

Free carrying case

Dust-proof and sealed design

Keystone correction
Cons:
Average audio quality

Decent image output
---
5. KODAK Luma portable projector
Bring in a full HD performance in your room with the Kodak Luma portable projector that displays impeccable and high-resolution images from any corner of your room.
Sturdy build and stunning design offer high clarity of color and brightness, supporting 4K videos and images with a native resolution of 1920 x 1080p. 200 ANSI Lumens of the lens, 3500:1contrast ratio, 100% Color Saturation, 16.7 Million Colors, and 16:9 Aspect Ratio brings you complete HD entertainment anywhere and anytime. 
Make full use of instant image optimization and focus from any angle or distance possible, ranging from 0.65 ft to 12.5 ft.
The Kodak luma projector has a built-in automatic keystone corrector to maintain a perfectly rectangular screen between 10-150-inches without stretching or compression issues.
The projector offers four different ways to connect to devices for screen-casting, and Android 9.0 OS lets you enjoy your favorite TV shows and videos right from Netflix, Hulu, Youtube, and many more platforms.
Rechargeable 10500 mAh Battery Supports Up to 3 Hours of Play in Eco Mode to let you enjoy your binge-watching sessions in one go. An RGB lamp gives 30,000+ hours of life to never miss out on an important show with peers.
Made to be portable, carry it anywhere and set it up on any surface using a tripod stand, making it a perfect choice for family outings, parties, hosting presentations, and even gaming on a large screen!
Pros:
Portable design

Rechargeable battery

Long lamp life

Preloaded streaming apps

Best HD projector under 500

4-sided keystone

Versatile connection ports
Cons:
Only 2.4Ghz wi-fi connection

Clumsy software

Manual focus

Bad sound quality
---
6. Epson Home Cinema projector
Epson home cinema projector makes one of the best home theatre projectors under 500, meant for an exceptional cinematic experience right in your home. This projector can get a more expansive screen display and realistic images with good sound quality. 
This home projector delivers stunning and detailed 1080p images with 3300 lumens brightness for intense colored visuals even in dimmest environments.
Advanced 3LCD technology gives 100% RGB color signal for every image frame allows for perfect color accuracy without brightness or diffracting issues seen in other projectors in the market.
A versatile contrast ratio of 16,000:1 maintains a rich image display for a throw distance of 2m and three times brighter images in a dark set-up.
Supporting all HDMI connectivity with possibly every device, the projector is easy to mount, and built-in speakers make your movie experience more premium. 
The skew sensor automatically adjusts the keystone for a consistent output. With such great features, one can never say no to this mini home theatre!
Pros:
Easy usage and set-up

Portable and light-weight

Durable build

Wall mount

Excellent brightness

Works in all environments

Good image quality
Cons:
Noisy

No cooling system

Low lamp life

Average contrast quality
---
7. Epson Pro EX7260 WXGA 3 projector
Now enjoy your late-night movie jams with the Epson EX7260 Pro mini projector. Mingling advanced features and multiple connectivities in a portable device, EX7260 promises positive feedback with high-quality images and stunning visuals.
Being wireless to reduce manual operation, the Epson EX7260 is easy to set up and operate. The 3LCD technology with 3600 lumens of brightness delivers vivid and colorful images even in the brightness of the environment. With a WXGA resolution of 1280 x 800p, you can project 2x more detailed visuals than SVGA for a great movie session. 
Maximize your viewing time with the 10,000 hours long lamp life to never experience a lag in between your presentations. Connect your tablet, phones, PC, and even consoles to this mini projector and have a long-lasting screening session with the wireless feature or the HDMI ports for any event. 
Forgot your laptop at home during an important meeting? Worry not! Simply connect your phone to the projector and display presentations, videos, and photos from MHL-enabled smartphones and tablets while charging your device. 
It fits the best HD projector under $500 for office and school settings for such a price!
Pros:
Great brightness

Amazing image quality

Portable and compact

Good screen resolution

Wireless connectivity
Cons:
No 3D display

No audio port
---
8. Optoma GT780 Short Throw Projector
Do you want to replace your old projector with a better one under $500? We got you covered with the Optoma GT780 mini projector! Mount it anywhere and on any surface to get the best image display on a projector screen.
Experience a large, vibrant 720p native resolution with 1080p input image upto 300-inches of screen size. Rec.709 color gamut guarantees precise tints for that cinematic feel to your movies and videocasts.
This short throw projector delivers a 120-inches large image from a 4.2ft distance, ideal for small settings and rooms. An incredible 3800 lumens promises brighter images even in ambient lighting. 
Enjoy up to 15,000 hours of lamp life with an average viewing time of 3hrs to finish off any movie while binge-watching for upto 9+ years.
A vertical keystone correction and maximum 2.0x zoom let you easily place and fix the screen on any surface. A dual 10W speaker provides optimum sound quality for a perfect cinematic atmosphere. 
Robust connectivity enables the connection of almost every multimedia device, including streaming platforms, to keep your binging surf with the waves! With pretty much all features stubbed in this mini projector, buying it will leave no regrets!
Pros:
HD color quality

Great sound quality

Easy installation

Average lamp life

Robust connectivity

Large screen size
Cons:
Low screen resolution

Short throw distance

Only vertical keystone
---
9. Anker Nebula Solar Portable Projector
Anker Nebula Solar portable projector lets you enjoy 120-inches excellent videography at 1080p resolution, making it one of the best projectors under $500.
Packed with a 400 ANSI lumens lamp and HDR10, you get to experience richer and detailed colored images and videos. It makes it the best pick for consumers looking for a projector to work in dimmer environments like a movie screening, hosting parties, and late-night binge-watching. 
Dolby Digital Plus and the dual 3W speakers take the audio experience to the next level with power and clarity, making this portable projector a Bluetooth speaker.
The projector's quadrilateral keystone adjustment ensures that you get a perfectly squared image from almost any angle and any mounting surface. 
A longer throw distance upto 10ft allows you to adjust the screen according to your liking for an intimate view or a theatre experience at home.
Various connectivity ports, including USB and HDMI ports, allow you to hook the projector with any device for a movie or game night!
Want to stream more content from Netflix or Youtube? The projector has you covered with Chromecast compatibility. A rechargeable 65W battery lets you enjoy upto 3hrs of continuous playback along with battery mode to conserve excessive loss of power. 
The Anker Nebula is quite a good fit for a projector under $500, which consumers can use for almost all kinds of multimedia and entertainment purposes. 
Pros:
Great HD display

USB-C Type port for easy charging

Compatible with Netflix, Chromecast, Hulu, etc.

Good sound quality
Cons: 
Bluetooth audio allows only one connection

No lens protector

Limited remote controls and buttons
---
10. WEMAX Dice portable projector
Take your 1080p cinematic experience anywhere with the WEMAX dice portable projector that can easily fit in your suitcase when on the run! 
700 ANSI lumens allow brighter and colorful visual images and crisp video quality when used in any setting, be it a dim room or an ambiently lit atmosphere.
This portable projector weighs 4.8lb and measures 6.1 x 4.9 x 6.3 inches making it small enough to be placed inside your backpack and lightweight for the feather feel. 
120-inch display, HDR10, TI DLP, Rec 709: 100%, and 4K support makes it a perfect projector to view movies, stream videos, present in seminars and lectures.
A 4 point keystone correction assures you of a perfectly aligned image every time you screen on a whiteboard, and a vast display of 120-inches makes your viewing take fantastic. 
The projector comes with a rechargeable 16000mAh battery that keeps your video playback lasting upto 3 hours straight. With Bluetooth, USB, HDMI 2.0, Wi-Fi, Optical connectivities, you need not worry about your projector facing difficulties while connecting to various devices. 
The portable projector allows you to cast from different platforms like YouTube, YouTube TV, Disney+, Hulu, Prime Video, Vudu, HBO GO, Showtime, ESPN, Crunchyroll, Nick, Cartoon Network, YouTube Kids, PBS Kids and supports Android 9.0 operating system. 
With such impressive features in a mini package, WEMAX dice portable projector makes the best HD projector under $500. 
Pros:
Great battery life

Brighter images

Built-in speakers

Great customer service
Cons:
Buggy streaming system

Laggy Android TV
---
Buying Guide For a $500 projector
Image quality
Usually, such expensive projectors do a great job of delivering high-quality images with outstanding resolutions. Mostly, they start with a native resolution of 1080p which is the basic almost every projector provides. 
If your projector gives you a full-HD or 4K resolution photography, that is the best pick for under $500. Some of these projectors also incorporate laser technology or 3LCD technology to provide brighter and vivid images and videos for a perfect home theatre feel. 
Portability
One should consider that when buying a projector under $500, the device should be portable enough to be carried anywhere and be light to fit in a suitcase or a backpack. 
This ensures that the projector may come in handy, especially in business settings and school work. Some projectors in the market come in compact sizes and approximately 7lbs in weight to make them an excellent fit for buyers looking for small-sized portable. 
Brightness
The lumens of a projector determine how bright the device will project the images. It is generally not a compulsion to have a high lumens rating as the brightness depends on where you are installing your projector and when you are viewing your videos and movies. 
For example, you are using the projector in a moderately lit environment. In that case, a device with a lower lumens rating will be acceptable to view clear images, and if you are using it for night sessions or in a dark room, then a higher lumens rating is required. 
Most projectors under $500 guarantee a clear and bright image starting from 400 ANSI lumens. 
Connectivity and compatibility
When buying a projector under $500, one should keep in mind that it should allow different connectivities, including wired and wireless, when investing in an expensive projector. 
Most of the projectors under such price range provides various connection ports like HDMI, USB, SD reader, and many more. One must consider whether the device allows compatibility with a streaming platform like Netflix, Hulu, Hotstar, Disney, and even Chromecast. This way, one can enjoy more amount of streams right from your projector. 
---
Verdict
Choosing the best projector under 500 may be quite a troublesome task where one has to know everything about the build quality of the images displayed by the projector. 
With all these new projectors introduced in the market that guarantees 4K resolution, one needs to care when buying an expensive product. This article brought you the top ten picks for the best HD projectors under $500 to help you pick one that suits your needs and requirements.
From the entire list, the best we found is the Epson Pro EX7260 projector that promises a Full-HD display and excellent brightness mingled with crystal clear visuals make it a great projector under $500. 
We hope this post helped you understand all the features of a $500 projector and gave you information on the best-reviewed picks from our end!