How To Use Whatsapp Web Without Phone
Whatsapp Web Without Phone: In this article, we will discuss the Whatsapp feature that has been released recently. We are talking about Whatsapp Web. We will provide a way to use Whatsapp Web without Phone on a desktop device.
Whatsapp
Whatsapp is no doubt the best social messaging platform that is available for a lot of device architectures. It is free and is a cross-platform application. It means that users using any device (Android, iOS, or Windows) can communicate with each other using Whatsapp.
Facebook LLC currently owns the platform, but Brian Acton and Jan Koum initially developed it. Both of them were former employees at the firm Yahoo. It is known that Facebook acquired Whatsapp for an amount of 19 Billion Dollars.
Whatsapp offers some extra features in addition to messaging. It provides calls (voice and video both), media sharing, stories and status, and more. Whatsapp is made secure using the great end to end encryption technique. That means no one other than the sender and receiver will be able to receive the texts.
There are a number of modded versions of Whatsapp that provide additional features to the users. One such mod is GB Whatsapp. It allows a user to read deleted messages, stay online always, and other features that are absent in the original app.
Whatsapp Web
Whatsapp Web is a desktop derivative of Whatsapp that was announced officially in 2015. The browser version of Whatsapp is generally a synced mirror of your android smartphone. The browser client ran on Android One and was made for Android, Blackberry, and Windows only. Later, they added the iOS system too.
Whatsapp Web can be accessed using any browser except for Internet Explorer. The browser advised by the developers of Whatsapp Web is Google Chrome or Firefox.
Whatsapp Web Without Phone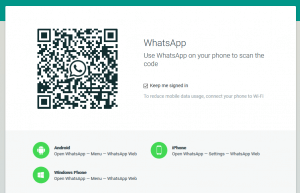 Below we have provided a complete guide on how to use WhatsApp web without a phone on your desktop device. You will need a smartphone for authentication and a desktop. Here are the steps.
Fire up your browser and go to the official Whatsapp Web platform.
Wait for the QR code to show up. Once it shows, switch to your mobile device.
Open Whatsapp application on your mobile and find three vertical dots on the top right of the screen.
Tap on the dots to open a submenu.
Tap on Whatsapp Web option in the sub-menu.
If you are going to use Whatsapp Web for the first time, it will directly ask you to scan the QR code.
If you have already used Whatsapp Web without a phone, you can click on the plus (+) icon on the top right to add a new Web device.
Align the QR code inside the border using your smartphone's camera. The application will automatically detect the QR code and will present you with a loading screen on your desktop.
When the desktop loading is complete, you can see messages and chat bubbles on your screen.
Congratulations, you can now use Whatsapp Web on your laptop.
There are a number of other ways of using Whatsapp on your laptop. Check out this article where we have mentioned the 3 best ways of using Whatsapp on a laptop.
Note
Whatsapp Web requires your mobile to be connected to the internet. It generally mirrors your phone screen to your desktop. If you close the internet connection to your smartphone, the Whatsapp Web without phone screen will close automatically.
Conclusion
This was the step by step guide on how to use Whatsapp Web without Phone. We do not say that an individual does not need a smartphone in the whole process. Authentication is essential and can be done only via a smartphone. Once the authentication is done, one can use the Whatsapp web without a phone as long as the smartphone has an active internet connection.
Feel free to comment on any issues regarding Whatsapp Web Without Phone and do not forget to subscribe to our newsletter for more posts daily.