Fix Roblox Error Code 524 Easily on Your PC [Permanent Fix]
Roblox is a great game for sure but sometimes the annoying error codes are too much to handle for a gamer. One such issue is the Roblox Error Code 524.
The Roblox Error Code 524 is an authorization error that is caused when the user who's trying to join the server is not authorized to connect. In this case, what you can do is get invited by someone in the server, start a new server, or reinstall Roblox to fix corrupted game files if any.
But what exactly is this error? We will find out in this post. Here, we have shared detailed information related to this error and have also provided you various ways that will help you in fixing it.
---
What is Roblox Error Code 524
As mentioned above, the Error Code 524 in Roblox PC is an authorization error and it arises when the user is not authorized to enter the server.
The player is unable to join the server and the text on the screen states "Not Authorized To Join This Game: Error Code 524".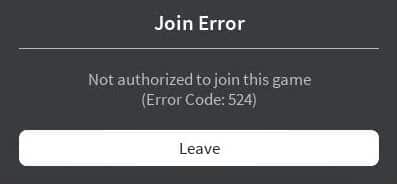 This usually happens when the server owner has changed the server settings to VIP only. This can be easily fixed by getting invited by someone who's a VIP in the same server.
There are some other reasons for this error as well. Those issues can be easily solved by either reinstalling the game or by creating a new server of your own.
---
How to Fix Roblox Error Code 524
Hopefully, there are three methods that you can implement on your PC to get rid of this Error Code 524 issue permanently.
We have listed the methods in order and we recommend that you should follow them in the same order as well.
1. Get Invited from a Friend
As this Roblox error is caused when the game owner changes the settings of the game to enable only VIP members from joining, you can ask someone who's a VIP to invite you to the game.
This way, you will be able to join the game easily and can play with other VIP members in the game as well.
But before asking another player to invite you, make sure that you have these privacy settings set up.
Here's how to do it.
Launch Roblox on your PC and go to Roblox Settings.
From the list of options, head over to Privacy Settings.
Scroll down and find the tab titled "Who can invite me to a VIP server".
Change the "Friends" option to "Everyone".
Select Ok to save the changes.
You can now ask players to invite you to a game server. Just search the players with their username, and request an invite from them.
Wait until the invitation is accepted. Once it is, you will be able to join the game server normally.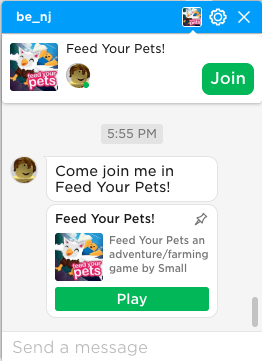 This is how you can easily get rid of the Error Code 524 on your system.
---
2. Reinstall the Game
Sometimes the issue is with your game files. Game files stored on your local storage can get corrupted due to various reasons.
These corrupted game files can then cause Roblox errors such as Error 524 and Roblox Error Code 277.
The solution to this issue is – Reinstalling the game.
Doing this is easy. Just follow the steps and you'll be good to go.
Select the Start Menu on the bottom left part of your screen.
Search for Control Panel and click on it.
Select Programs and Features.
A list of all the installed programs will be presented to you.
Find Roblox and double click on it to uninstall it from your system.
Go to the official Roblox website and download the executable file.
Install Roblox by double-clicking on the .exe file that you just downloaded.
Launch the game and then try connecting to the game.
Now, you will get connected to the game easily if the issue was with your Roblox game files.
---
3. Start a New Server
If the above-mentioned methods didn't work for you, then sadly you only have one more option left.
You will have to start your own game server on Roblox. Every Roblox game has a number of servers that you can play on. And you can create one too – for the exact same game.
You can then invite your friends to play over at your server in Roblox.
If you do not know how to start a new Roblox server, follow the steps below. There's a trick to it.
Launch the Roblox Player on your system.
Head over to the Game section and search for the game you want to play.
Invite at least 5 of your friends and create a party.
Try to join the Roblox game and at the same time leave the party. This trick only works sometimes so keep trying.
When you get connected to the game, you will have your own Roblox server.
---
Final Words
So that was our take on How to fix Roblox Error Code 524 on your system. This error is caused when the user who is trying to join a server is not authorized to do so.
However, you can easily fix this issue by getting invited by someone who's already playing the game. You can also try reinstalling Roblox or just start a new server to play with your friends.