mailfloss Review: The Best New Email Verifier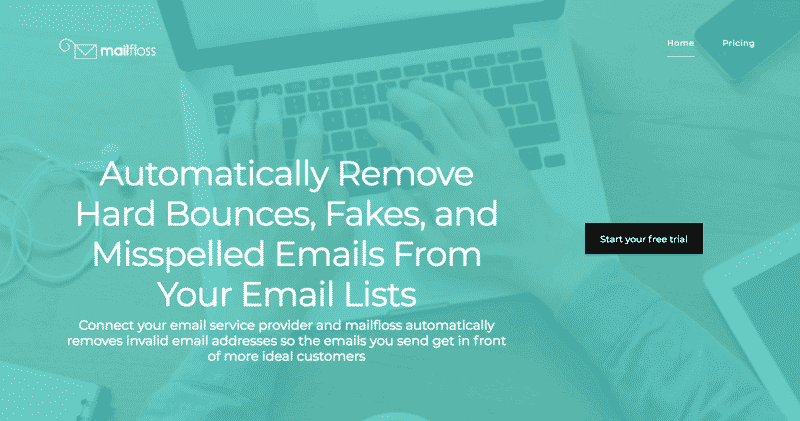 mailfloss is a new email verification service that automatically removes invalid emails from your email lists. This is the key differentiator between mailfloss and other email checkers. Even others that claim the process is automated isn't truly automated the way mailfloss is.
All you do is connect your email service provider (ESPs), choose your options such as how aggressive you want mailfloss to clean, and how you want mailfloss to handle invalid email addresses. Your options for most ESPs include to manually review everything first and then decide what to do, or you can allow mailfloss to automatically unsubscribe, delete, or tag invalid email addresses.
This is important to keep your email deliverability and domain reputation high. If you don't do this, eventually less and fewer emails will show up into your subscribers' inboxes. Instead, more will go into the promotion folder, spam folder, and if it gets really bad, not get delivered at all.
That's because over time you'll be collecting more and more invalid email addresses that include typos, email addresses that hard bounce because they don't exist, disposable addresses that don't ever interact with your emails, and so on. If you continually send to these email addresses the spam filters start thinking you're a spammer, and thus start delivering your emails to less real people. Not good.
The problem with email verification services is that it's a tedious process. You have to export your email lists from the ESPs, upload a spreadsheet to the email verification service, wait for the results, and then manually remove the invalid email addresses once you've gotten the results back. That's better than nothing, but most businesses and marketers are too busy to do this.
That's why mailfloss really shines. It handles everything for you from beginning to end. You only have to complete an initial onboarding set up one time, and that's it. It's very easy, has lots of videos and tooltips and documentation to get you going, and it's all very intuitive. And mailfloss customer support is friendly, helpful, and responsive.
mailfloss supports 15 popular email service providers, and they plan on adding a lot more. As of this review, they have support for the following ESPs.
ActiveCampaign

AWeber

Campaign Monitor

Constant Contact

ConvertKit

Drip

Infusionsoft

Klaviyo

MailChimp

MailerLite

Moosend

Ontraport

Sendinblue

Sendlane
If you use an ESP that's not on the list, feel free to get in touch with the mailfloss team, and if it's not on the roadmap they'll likely add it for you as long as the ESP has a public API.
Subscription Plans
If you use a supported ESP, mailfloss has subscription plans that suit your needs. These come with a 7-day free trial and are good if you need continuous protection and verification of your email lists, which should be most businesses that take their email marketing seriously.
With any plan, you get daily, automatic verification. That means mailfloss will do daily cleanup and "floss" your emails. Daily cleanup is best because it quickly catches invalid emails as they come into your system, without large delays between cleanings. This keeps your domain reputation high.
There are three subscription plans that vary mostly by a number of verification credits in each plan. The Lite plan gives you 10,000 emails/month and costs $17/month, the Business plan gives you 25,000 emails/month and costs $49/month, and the Pro plan gives you 125,000 emails/month and costs $200/month.
On the higher-tiered plans, you'll also get additional features such as more connected email integrations, and a few more advanced features such as custom filter exclusions and auto-tagging. The nice thing about these subscription plans is you don't have to think about purchasing credits as they are automatically replenished every month, and the tiers are designed to allow you to easily upgrade as your email marketing program grows.
A credit card is required to take advantage of the trial, and after the trial is over mailfloss will charge the card on file without disruption to your service.
If you don't use a supported ESP or you have additional emails that you want to clean using spreadsheets or just need a large one-time cleaning, mailfloss allows you to purchase prepaid credits that don't expire.
They are some of the most affordable credits we've seen and come with a 30-day money-back guarantee.
Prepaid credits cost the following:
$4 – 1000 credits

$20 – 10,000 credits

$80 – 50,000 credits

$150 – 100,000 credits

$250 – 250,000 credits

$400 – 500,000 credits

$600 – 1,000,000 credits

$1300 – 2,500,000 credits
There are additional discounts if you have an active subscription with mailfloss. If you're subscribed to the Lite plan, you get 10% off prepaid credit purchases.
If you're subscribed to the Business plan, you get 15% off prepaid credit purchases. And if you're subscribed to the Pro plan, you get 20% off prepaid credit purchases.
What we like the most
Some of the things we like most about mailfloss include the following:
The initial setup is super easy and is only necessary to complete once.

We love that it is an automated solution that cleans your email lists every day from invalid emails.

The automatic functions are the best. It deletes, tags, unsubscribes and fixes invalid email addresses including hard bounces, typos, complainers, disposable addresses, and more.

They can detect all types of email addresses, including Yahoo, which is notoriously difficult to detect accurately.

Their decay protection feature prevents email lists from going stale from things like job turnover that makes those addresses bounce.

It's also extremely powerful and flexible under the hood. You are in complete control.
Conclusion
mailfloss is the best new email verifier we've tested. It's completely automatic, making it the most convenient solution available. It's affordable – in fact, one of the most affordable options available that also includes a generous 7 day free trial for their subscription plans and a 30 day no questions asked money-back guarantee for any prepaid credits purchases. It's also highly accurate, with the ability to detect almost any type of email to a high degree of accuracy.
With all this going for it, we recommend mailfloss to anybody who wants high email deliverability and a higher ROI on their email marketing efforts and who use a supported ESP that mailfloss supports.