Best Tattoo Stencil Printer for Tattoo Artists: Hot Picks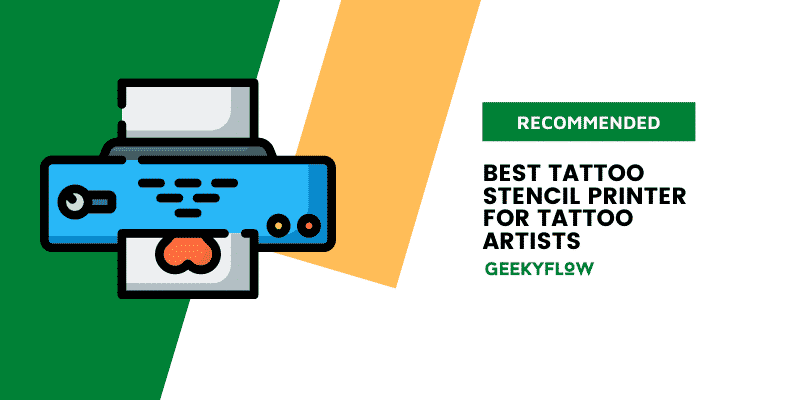 Are you a tattoo artist? If yes, you may agree that tattoo artistry is not a child's play. Sketching out the perfect design on your client's body, at the same time, requires a lot of skill and focus. 
Likewise, you have to think about laying out a flawless tattoo design and not hurting the client while doing so. Therefore, a tattoo stencil printer is a must-have device for every tattoo artist. 
The best tattoo stencil printer allows you to showcase your creativity in the finest of ways and without any error. Still not understood? 
Well, using a tattoo stencil printer, you can first draw out the design manually. Once you do this, the design can then be easily printed on the transfer paper. 
This design then acts as a stencil while making the final tattoo. This eliminates all chances of mistakes when drawing out the prominent tattoo on your client's body. 
Moreover, making the tattoo using a tattoo stencil is much easier and more convenient when compared to drawing it out directly. 
So, we have brought you a list of 7 of the best thermal tattoo printers that you can buy. 
In the following list, we have also mentioned all the features they offer and their pros and cons. Stay tuned to find out.
Can You Use a Regular Printer For Tattoo Stencils?
Although you can use a normal printer for printing out the tattoo outline, the best thermal printer for tattoo stencils makes your job much easier and saves you a lot of time.  
Likewise, there are many different types of printers like inkjet printers, laser printers, Dot Matrix printers, and thermal printers that tattoo artists use. Thermal printers, however, are the most favorite among all these.
Thermal printers utilize heat for transferring the image onto the stencil paper. They are by far the most environment-friendly and safe to use tattoo stencil printing machines.
The only thing is you need carbon paper and special tattoo transfer paper to achieve the highest quality results.  
Therefore, in order to help you choose the best thermal printer, here is a list of the 7 of the topmost best tattoo stencil printers to buy in 2022.
The Best Tattoo Stencil Printer in 2022
1. Sacnahe Tattoo Transfer Stencil Machine Copier Printer
Sacnahe Tattoo Transfer Stencil Machine
High quality stencil print:Tattoo thermal copier printer machine that works well in most areas; it is almost equally good for lines, as well as faded lines and some shades.And very friendly to Paper.
Do you want to buy a good and cheap tattoo stencil printer? Sacnahe Tattoo Transfer Stencil Machine Copier Printer ends your search.
This easy-to-use and high-quality printer have all the qualities that the best tattoo stencil printer must have.
First of all, it is highly economical. So, You don't have to worry about replacing or running out of ink. Besides, if you are looking for a product that helps you save time and money, this one is the absolute must-have of choice. 
Coming back to its features, it has a mirror, a regular photocopy mode, and three commands for easy use. These three commands include: Power, Copy, and stop. The buttons for all of these options are provided on top of the stencil printer for easy access.  
In addition to that, it also has a couple of depth level buttons for easy adjustment. 
In the light of drawing different structures, you can quickly draw straight lines, faded lines, and even a limited variety of shades using this thermal printer. 
The last and the most important reason to buy the Sacnahe Tattoo Transfer Stencil Machine Copier Printer is the bonus gift you get with the package.
The gift contains 20 sheets of Tattoo stencil paper that you get for free when you buy this product. 
Pros
Lightweight and simple design

Easy to use 

Suitable for long term use 
Cons
Not suitable for complicated tattoo designs 
Check Price On Amazon
---
2. Life Basis Tattoo Stencil Thermal Printer
Comparing the Life Basis tattoo stencil thermal printer to other traditional printers offers many other benefits over them. 
However, the main benefit is that it does not contain bulky and unnecessary heating elements like bulbs, Cylinders, etc. 
Because of this, the chances of overeating the printer when using it gets eliminated. Ultimately, this provides you with a better tattoo printing experience than other printers available in the market. 
In fact, not just that it even has a thermal setting that tells you when the device is overheating. So, you can quickly turn it off to prevent damage. 
It also supports two paper sizes, namely A4 and A5. Hence, giving you a choice to choose the size which fits you the best.
Accordingly, you can use the A4 size for large tattoos, and the A5 size, on the other hand, can be used for smaller, lesser detailed tattoos. 
Lastly, the package comes with a 1-year warranty that offers product replacement if damaged within a year of purchase. The terms and conditions, however, need to be met first. 
All and all, it is one of the best tattoo thermal printers for stencils especially, for someone concerned about problems arising due to heat. 
Pros
Saves time

Works efficiently

Budget-friendly and affordable 
Cons
It makes a loud noise while working. 
Check Price On Amazon
---
3. Jconly Tattoo Printer Machine
Jconly Tattoo Printer Machine
Suitable for printing tattoo transfer printing paper and thermal paper and the suitable paper size is A4 and B5, which provides fast printing speed, little noisy sound.
Jconly Tattoo Printer Machine is another good option if you are looking for the best thermal tattoo printer. 
Despite its popularity being lesser than both of the options mentioned above, this tattoo printer machine does its job just the same. 
It is constructed using ABS material which is safe, environmental, and is durable for long-term use. 
Plus, it comes with a hundred transfer paper tattoo stencils. Both of these features make it a perfect fit for professional tattoo artists.
Especially if you have many clients, you should totally buy this durable and long-lasting product. 
Furthermore, it contains two light indicators. The first one tells you if the machine is working. The second one is the error light which warns you if the machine is not working correctly. 
Like most other best tattoo stencil printers, the body of this one too contains instruction buttons on top. 
Pros
Wide variety of beautiful stencils

Ideal for professional use
Cons
It needs to be preheated before use. 
Check Price On Amazon
---
4. Funwill Tattoo Transfer Machine
funwill Tattoo Transfer Machine
❤️ARTIST FRIENDLY - Allow you copy the designs to skin efficiently without error. Greatly reduce the time you spend on hand-painting and free your hands
Next up on our list of best tattoo stencil printers is the Funwill tattoo transfer machine. 
This artist-friendly and multi advantage device is practically a thermal printing beast. Henceforth, it provides continuous non-stop tattoo stencil printing without much overheating.
Moreover, it has five buttons for quick action. These buttons help you to use the machine easily. Accordingly, these are for actions like Power, Stop, Deepness 1, Deepness 2, Mirror mode, and Normal mode.
The printer also contains lighting options that tell you whether or not it is overheating.
Talking about voltage compatibility, it works best with 100-240v, which is easily available at all places. This feature makes it quite portable and reliable to use at all places. 
The only drawback with this product is that it is not suitable for complicated shadow-containing patterns. Still, it is currently one of the most trending and best tattoo stencil printers that you can buy.
Pros
Safe to use 

Good for beginners 

Lightweight and portable 
Cons
Can only draw simple designs 
Check Price On Amazon
---
5. Life Basis Tattoo Stencil Transfer Machine
Life Basis Tattoo Stencil Transfer Machine
❤️ Ideal for the tattoo artist: Allow you copy the designs onto stencil paper quickly and efficiently just in a few easy steps. Copy your design to skin perfectly without error.
We know we have already mentioned one product by Life Basis above in this list. But tattoo stencil printers by Life Basis are just completely irresistible. That is why there is a second-best product from the same brand. 
This one, too, just like its counterpart, is easy to carry around and has only a weight of 1.17 KG. Moreover, it is highly economical without needing ink or internal element replacement.
Apart from this, it is a cheap tattoo stencil printer that is very easy to use. It comes with an instruction guide that helps you to figure out it's working quickly.
Along with the printer, you also get ten pieces of free transfer paper for drawing out your design more perfectly than ever before.
Pros
Fast printing speed

Produces dark and bold designs 

It comes with good quality papers
Cons 
Check Price On Amazon
---
6. TATELF Tattoo Transfer Stencil Machine 
TATELF Tattoo Transfer Stencil Machine Thermal copier stencil printer meant for professional tattoo artists. 
It weighs 1.6 kgs and supports a transfer paper size that is approximately equal to 8.5 inches x 11 inches (Width x Length)
Among its many features, the primary features include low sound while working, low heat, along with a very stable performance.
It is a beautiful black tattoo transfer stencil printer that has a classy appearance with an easy-to-carry design. 
Although it does not support the printing of complicated designs and shaded figures, it produces the ultimate best simple patterns. They say that simplicity is an asset. So, most people prefer simple designs when it comes to getting inked. 
This is mainly because complicated designs consume a lot of time and or are even harsh on the skin. 
As a result, simple tattoo designs are generally higher in demand than complex ones. 
This makes the TATELF Tattoo Transfer Stencil Machine Thermal copier stencil printer one of the most desirable and best tattoo stencil printers today. 
For best results, do not use the machine continuously. Give it sufficient time to cool down after set intervals in order to avoid damage and malfunction. 
Pros
Cons
Check Price On Amazon
---
7. Tattoo Transfer Stencil Machine Copier Printer by ATOMUS
The last one on our list of best tattoo stencil printers is the tattoo transfer stencil machine by ATOMUS.
Here is a quick view of its features and specifications.
Firstly, it supports A4 and A5 sizes of paper.
Secondly, it provides fast printing with low heating. Not to mention, it works smoothly and gives a stable performance. 
Thirdly, if you are looking for a simple tattoo stencil printer that makes perfect line graphs, this is the ultimate option. 
And lastly, it is lightweight and affordable.
Unlike most other printers mentioned in this list, this one only contains the main printer, an instruction guide, and a power cord in the package. 
Nonetheless, it is still one of the best tattoo stencil printers that you can buy, especially if you are a beginner. 
Pros
It makes clear and crisp patterns. 

Inexpensive

Easy to operate 
Cons
The darkness is difficult to adjust 

Produces bad smell
Check Price On Amazon
---
Verdict
This was all about tattoo stencil printer review from our side. We have done a thorough research and have tried to shortlist all the best options that you can buy in 2022. 
Especially if you are looking for easy-to-use and budget-friendly tattoo stencil printers, then you must try at least one of the products.
If you ask us, then we would recommend Jconly Tattoo Printer Machine. 
All of its features and specifications are just unmatchable and perfectly suitable for any professional tattoo artist. So, whether you are a beginner or an expert, you can buy it to make your work much more effortless than ever before.  
That brings me to the end of this blog. I hope we were able to provide you with all the information that you were looking for.  
Nevertheless, the options are endless, and the market has a lot of variety. However, the more important thing is to make proper comparisons and only then spend your money wisely.  
FAQs
Can I use a normal printer to make tattoo stencils?
Yes, you can create tattoo stencils using a standard printer. But the thing is, the process consumes much more time and does not produce top-quality results when compared to a tattoo stencil printer. 
Moreover, you cannot print tattoos on normal paper. For this, you either need thermal paper or otherwise carbon transfer paper. Generally, it is hard to incorporate these types of papers in a normal printer. 
What paper is used for tattoo stencils?
Thermal paper and hectograph paper are generally used for tattoo stencils. Thermal paper, however, is the most commonly used for tattoo stencils by most professionals. 
It is by far the safest and most convenient tool for a budding tattoo artist. The hectograph contains three layers. It is ideal for hand drawings and impact transfer. 
Related Articles