7 Best Outdoor Projector for Daytime Use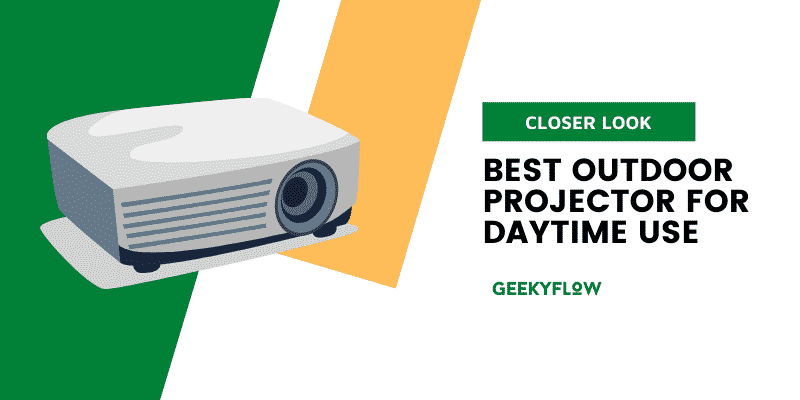 Outdoor projectors are a great way to pass your time with your friends and family to screen the latest movies or old ones in your backyard.
Now, we know that most projectors come in handy in the evening or the nighttime but wondering where to get one that works just as well as in daylight? Fret not! We have you covered with our top picks for the best outdoor projector for daytime use!
Brightness and lumens are essential for your projector to give you some excellent projection display and time without having to squint to look at the moving frames.
The higher the lumens, the better the images you'll see even when the sun is out high. Keeping all the points in mind, we have made choosing the best projector for daytime outdoor use easier, so read ahead to get all the information!
---
Best Outdoor Projector for Daytime Use
1. VIDOKA Bluetooth projector for daytime outdoor use
The VIDOKA projector is an excellent choice for users looking for a mini device with various features, portability, and easy connectivity.
The projector gives you all the essential features to work as the best projector for daytime outdoor use at a slightly higher price tag.
The projector comes with a 9200 lumens brightness and 1080p resolution to deliver crystal clear, precise, and brighter images that can be viewed even in the brightest environments and settings.
The high dynamic resolution of 12000:1 makes images vivid, and eight layered anti-refractive coated lenses give better durability and image projection.
The video projector lets you manually adjust the projection size between 45inches to 300inches and has a throw distance ranging between 1.5m to 8.1m, so it is suitable to project over any size of the white screen.
The projector's compact size makes it easy to carry outdoors and simple to set up via Bluetooth.
The projector also comes with a motorized zoom function that reduces the scattering of images up to 75% of its original size and width.
With VIDOKA's adaptation to the latest smartphone technology, wireless screen mirroring becomes easier to access with its one-time wifi connectivity with any android or iOS device.
This mini device also has a stereo speaker with five sound modes to choose from and acts as a Bluetooth speaker to listen to music.
The packaging will include the projector, an IR remote, HDMI and AV cable, and a three-year warranty for any misplacement or damage.
Pros:
Compact and portable
Wireless screen mirroring
1080p resolution
9200 lumens brightness
High throw distance rate
Stereo speaker
3-year warranty
Cons:
Expensive
Speakers lack depth
---
The latest upgraded projector by TMY offers you more at under $100, with brighter and vivid projections in a small size.
The video projector comes with the latest LED light source with 7500 brightness lumens and gives you a high resolution of 1080p, making your images vibrant and lively.
The projector houses the newest 3LCD color technology to bring your images to their maximum color and contrast.
It also emphasizes every little detail and shadow for a theatre-like outcome compared to other mini projectors in the market.
The projector has a screen size ranging from 32″ to 220″ with a throw distance between 1.5m and 6m for a comfortable viewing experience.
With a lamp life of over 60,000 hours and a high aspect and contrast ratio, you can enjoy a nonstop projector in a brighter scenario. You can even hold picnics and backyard movies even during the daytime.
You get a great variety of connectivity ports to connect any device with the projector, including tablets, laptops, and mobiles via HDMI, AV, USB, etc.
The white screen that comes with the projector is tailor-made to suit projection requirements. It is foldable, portable, and washable that can be carried anywhere, and fit in the tiniest pockets and bags.
The projector is made with durable material with a cooling efficiency of up to 75% to reduce heat damage and overheating problems.
The dual built-in speakers allow loud Bluetooth audio transmission, and a keystone correction function makes it an excellent projector for outdoor daytime use.
Pros:
Mini video projector
Auto keystone correction
High brightness and resolution
Clear and vivid images
75% cooling efficiency
Long lamp life
Cons:
Loud fan
Lower HD quality
Built-in speakers have a bad audio quality
---
Need a mini projector at an affordable rate that works better than most daytime projectors available?
Auking mini projector is the best option and the right pick for you!
The upgraded mini video projector comes with 1080p supported imagery at a 2000:1 contrast ratio for pristine display and is the best projector for daytime outdoor use.
The projector gives you the advantage of a bigger screen with a full 120inches projection display and a throw rate of 1m to 5m for convenient usage and enjoyable movie sessions.
Compared to the previous models, this upgraded version has a better lamp life of 55,000 watch hours and low fan noise for a disturbance-free environment.
You can use the projector for up to 15 years straight due to its durable build and great LED lamp source.
Multiple connectivities to up to ten devices give you a great viewing experience. This projector is an excellent fit for playing video games, watching movies, streaming videos, and viewing your favorite sports matches.
With three connection options ranging from VGA, HDMI, and USB, it connects smoothly with any device from smartphones, pads, tablets, etc.
One thing to note here is that although the projector allows mirroring of the screen, it will not support Netflix and Hulu.
Auking supports 100% guaranteed customer satisfaction and offers a two-year warranty for you to enjoy fantastic watch time during the day in your backyard or outdoor spaces!
Pros:
Advanced cooling system
Excellent image quality and projection distance
Clear and vivid images
Good for gaming, streaming, and watching
Long lamp life
Durable and compact build
Cons:
Supported resolution
Weak remote signaling
---
4. HOPVISION Native 1080P Projector
HOPVISION mini projector gives you a great experience for giant screening to view images at a larger size and high resolution for just under $100.
It is a great mini projector for an affordable rate and gives a high brightness of 9500 lumens that supports viewing even in a brightly lit daytime atmosphere.
This upgraded video projector has a great LED lamp with low power consumption for better durability, performance, and projection.
The mini projector comes with the best cooling system compared to other projector models that give a high cooling efficiency and a very low fan noise for more extended usage and a noise-free movie session which works well in the daytime.
The projector has a native 1080p resolution and can support 4k videos easily. The 12000: 1 contrast ratio provides more precise and vibrant imagery at a very high brightness which is easy on the eyes and does not distort or hamper the video quality.
This projector is a great pick to view details up to six times in 4k resolution and gives a fair viewing experience to the users.
The best part of this projector, aside from its high-definition projection, is the multi-functional feature that lets you use the projector for various purposes, including movie screening, streaming, playing games, slideshows, and many more.
It also has various connectivity ports compatible with phones, laptops, TV sticks, tablets, and other streaming platforms.
Besides, HOPVISON offers three years of free repairs and lifetime professional tech support if you encounter functionality problems with the projector.
Pros:
1080p Native resolution
4K supported
Great LED lamp
Low power consumption
HD projection
Vivid and clear images
High cooling efficiency
Low fan noise
Cons:
---
5. TOPVISION portable mini projector
The TOPVISION T6 mini projector is the perfect device for hosting parties, watching movies or home videos with your family in the backyard, or just having a movie night with your family.
With its portable design, it can quickly become a part of your trip and watch movies while traveling.
With a 9500 lumens brightness and 10000:1 high contrast ratio, JIFAR H6 is the brightest projector in the market that provides sharp and vivid images without hampering the image quality.
It delivers a perfect native 1080p resolution for a great backyard and outdoor movie screening.
The native resolution promises more details in your video and image projections than supported resolution projectors and is easy on the eyes when viewing for long hours.
The latest 5G wifi connection gives you ultra-fast connectivity to your smart devices and lets you enjoy lag-free and smooth streamings while playing games or watching content.
The projector also allows wireless screen mirroring that lets you stream contents right from your android or iOS devices.
With the JIFAR H6, you get the broader viewing experience at a projection size of up to 450inches. You can support 4K and Dolby vision videography for a theatre-like aspect to let you enjoy movie nights and daytime gaming sessions.
The projector also houses built-in dual 6W stereo speakers that deliver outstanding audio without external speakers when watching movies and videos.
The projector can support a variety of connections via HDMI, USB, VGA, TV, AV, and SD to connect devices like smartphones, tablets, Firesticks, WII, consoles, etc.
You get the provision 6- Month back, 3-Year repair, and lifetime professional technical support at a higher price, and it passes as the best projector for outdoor daytime use.
Pros:
1080p resolution (native)
High aspect ratio
Broader viewing experience
Supports 4K and Dolby vision
Various connectivity ports
Ultra-fast wifi connection
Dual 6W speakers
Cons:
---
7. BIGASUO HD Bluetooth Projector
Suppose you are looking for a versatile projector that can give you the benefits of both a DVD player and a video projector.
In that case, the BIGASUO Bluetooth projector is the best projector for you! This way, you can save up money and use this device as a projector and play your favorite movies outdoors!
The projector comes with a native 720p resolution and an 8000:1 contrast ratio. The high-quality coated lens projects clear and vibrant images without any distortion or glitches.
The super decoding technology of the projector creates a high-definition image for a better viewing experience.
The projector comes with high brightness and a minimum throw distance of 1m at a wide 200inches display screen, giving you the big screen experience from your backyard.
The built-in dual speakers give HiFi audio while viewing or streaming videos. The additional Bluetooth support of this projector allows you to link your speakers and headphones wirelessly to the device for personalized space.
This movie projector with HDMI, AV, VGA, Micro SD Card ports can widely connect to most devices, like laptops, consoles, etc.
The equipped DVD function also supports various playbacks from CD, DVD, and many more.
The projector also comes with a free protective case for portability and a tripod for a more straightforward setup.
The company also offers you a free service provision whether you encounter some problems with the projector.
Pros:
DVD player and projector
Good image quality
High contrast ratio
Various connectivity ports
Built-in dual speakers
Portable and compact
Cons:
Mediocre projector for the price
---
What to look for while buying an outdoor projector for daytime use?
A few specific features buyers need to check for in the device to claim it as the best projector for outdoor daytime use.
Here, we have provided you with a simple buying guide to pick the right projector for yourself:
Contrast Ratio
The contrast ratio can display different color variants of images on a big screen, including the monochromatic scheme.
The higher the contrast ratio, the better you will see shadows and lightings to your display images.
This display technology makes your projector worth the buy for more explicit pictures. A contrast ratio of a minimum of 3000:1 is a good start which means that the lighter parts of your images will be 3000x times brighter than the dark aspects.
The contrast ratio should be generally high between black and white colors for a more precise contrast to your movie screening.
Brightness
The lumens of a projector determine how bright the device will project the images. It is generally not a compulsion to have a high lumens rating as the brightness depends on where you are installing your projector and when you are viewing your videos and movies.
A good projector for outdoor use should deliver a lumens rating between 5000 to 9500, the minimum requirement to view clear and bright images in a lit background.
Resolution
The better the viewing resolution, one can expect the better the visual experience during the daytime.
These projectors support HD display with the minimum 720p resolution, but some can even give a higher resolution with an FHD display.
In this list, most projectors picked have a native 1080p resolution. You can even go for a projector that gives you a 4K supported resolution for defined and detailed photography.
Throw distance and size
The throw size is the distance between the white screen on which your projection will be seen and the projector.
Many projectors have different throw ratios like the ultra-short distance, the short throw, and the long one.
Most inexpensive projectors have a medium to long throw range between 2m to 5m and a screen size of up to 170-inches, which is an excellent choice for outdoor screening.
---
Verdict
Finding the perfect projector for outdoor screening may be a hassle when considering all the essential details to emphasize and get the best choice for yourself.
With all the projectors claiming to work at their best in a bright setting, we would highly recommend the Vidoka Bluetooth projector as the best outdoor projector for daytime use.
It offers excellent lumens brightness and HD quality images. If you want a cheaper alternative, then Auking is an excellent choice.
We hope the article helped you pick your favorite projector for daytime outdoor use!
Related Guides