How Automated FSM Solutions Can Enhance Crucial Facets Of FSM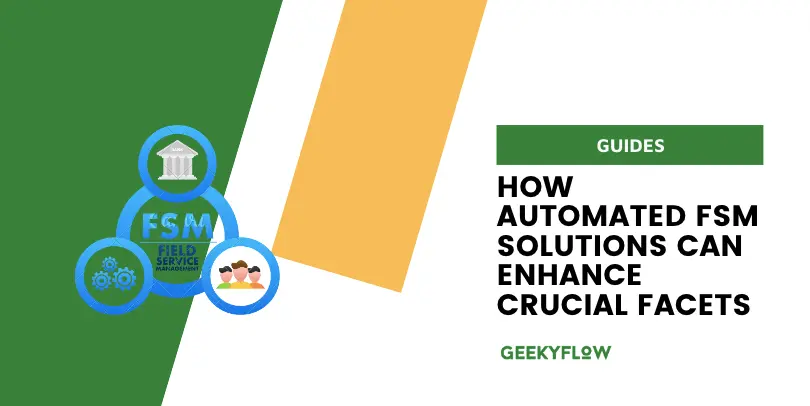 Most team leaders know that to schedule field services successfully; they must weigh jobs and skills equally. A successful job scheduling plan combines "on-the-field experience" with "know-how of using the right tools. The majority of businesses either rely only on their Field Service Management (FSM) Software or use manual methods. Below, you'll learn how adopting automated FSM solutions can enhance certain facets of field service management.
Field service scheduling optimization
Automated technologies like field service management software enable the quick dispatch of more field assignments. This approach automates the bulk scheduling of technicians, and managers can promptly choose to respond to an incoming request based on the information at hand. This is also an essential component of resource scheduling in project management to increase worker productivity.
Mobility
Automated task scheduling solutions are now accessible on mobile devices thanks to updated tools and technology. These are used with cloud-based field service management software, giving managers access to data through an app. Accessing information at any time is the primary purpose of a specialized scheduling app minimizing the need for employees to visit the office between tasks and removing procedures like using paper rotas. Having access on your phone enables you to:
Check the location and availability of the technician.

Use the job checklists

Update job status and progress 

Track inventories and spare parts

Visualize the status of an order.
Optimizing routes using GPS
The whereabouts of your mobile workforce can be detected using GPS trackers. Knowing a worker's location for task assignment and driving route optimization is critical to reducing the distance between jobs and clients.
Centralized asset and field service data
Making judgments based on data is a crucial component of automated field service scheduling. This comprises information about the customer as well as the knowledge of the technician, inventory, and locations. Data will be collected and kept in one area through a field service management solution, establishing a centralized asset register. This makes it simple for back-office teams and field service managers to analyze data and decide when to schedule employees.
Ongoing scheduling
Continuous field service scheduling options are used to start an activity with a more reactive mindset. Real-time field events provide the basis of every decision, for instance, technicians experiencing delays while traveling to a project or a repair's demand for spare parts that aren't readily available.
Management of inventory
Automated scheduling for field services involves inventory management in a significant way. The software shows the available equipment, tools, and spare parts with technicians in the field or a warehouse. In other words, jobs can be scheduled with workers' schedules and inventory in mind. Inventory management can be notified via alerts and notifications when stock availability is low, and replacements can be purchased.
Management of jobs
Finally, features for work management give everyone involved in the job cycle visibility, including the ability to monitor a work order's development and status. Managers can view the complete job process of a technician on a single platform. This informs them of the average time employees spend on a given task, which can assist with future labor scheduling.