Share Me For PC: Sharing has always been an interior part of our day-to-day lives. From sharing materialistic stuff to sharing thoughts, ideas, and emotions, everything needs a medium. The same goes for digital communication, a medium is required for transmitting data and information from one device to another.
Luckily, software developers have released a variety of applications that can be used to share data on your devices. One such app is Share Me. Share Me is an android application that can be used to share media files from one device to another. The application works on a peer-to-peer based networking concept as the devices share a common network as the medium of transmission.
The app is easy-to-use and anyone can use it on their smartphone and computers. However, a number of users face difficulties while installing Share Me for PC. That's why, here in this article, we will be sharing everything related to Share Me, Shareme Web, how to download and use it on your devices.
---
Share Me For PC – An Overview
Share Me is a P2P media sharing application that works on Android smartphones. The best feature of this app is it works even without an internet connection. The app was known as Mi Drop for PC and was later rebranded into Share Me. Users can download the application from the Google Playstore and start using it right away.
Share Me also features ShareMe Web, a utility that can be used to transmit data between a smartphone and a desktop computer. Users can connect to their PC and share files at high transmission speeds.
---
ShareMe Web Without Emulator
If you want to use Share Me for PC without an emulator, then ShareMe web is a no brainer for you. All you need is the Share Me app on your android smartphone. You can then share files from your smartphone to the computer and vice versa.
To use Share Me without an emulator, follow the steps given below carefully.
Download and install Mi Drop Apk on your smartphone. You can download the official application from the Play Store.
Open Share Me on your device.
Tap on the Profile option on the top-left of your screen.

Select Connect to Computer.
On the next screen, tap on Start at the bottom of the screen. Select the storage medium that you want to share with your personal computer.

You will get an FTP address on your screen. Note down the address as you'll need it later.

Open a browser of your choice on your computer. Enter the FTP address in the URL bar.
You will get an index of all the files on your computer screen. Click on the files that you want to download on your PC.

The files will start downloading at high speed on your desktop. This process does not require any internet connection on your smartphone or computer.
Mi Drop For PC Download
Many sources say that Share Me can not be used on a desktop computer as there is no official application named Share Me for PC. However, it's not true. There are a number of ways that can be used to download and install Share Me for PC on your computer.
Click on the button below to download Mi Drop Apk PC. The file provided is completely safe and won't harm your device in any way.
How To Install Share Me for PC
If you have a Windows system and want to use Share Me on your computer, then we have provided a step-by-step guide for the same. Note that this method is not related to ShareMe Web in any way.
In this guide, we will be using special Softwares known as emulators. Emulators are Softwares that are developed to mimic the working and architecture of any other device. For example, Android emulators would allow you to install and run any android application on your computer.
We will be using the mEmu emulator for installing Share Me for PC. Note that you can use any other emulator of your choice, such as Bluestacks.
To download and install Mi Drop for Pc on your Windows machine, follow the guide provided below.
Download the Share Me application file from the link provided above.
Download the

mEmu emulator

from their official website here.
After installing, launch the emulator by double-clicking the shortcut on the desktop.
Wait for the mEmu emulator to start.

Open the folder containing the Share Me Apk file.
Drag and Drop the apk file onto the mEmu emulator screen.
The emulator will start the installation process automatically.
Click on the Share Me icon on the menu after the installation completes.
Now, you can use Share Me for Pc on your desktop and share files with other devices.
Share Me For PC – Features
Share Me has a number of features that it offers to its users. In addition to the high transmission speed, Mi Drop or Share Me does not depend on an internet connection for its working. We have mentioned some of the best features of the application below.
Free
The first and foremost feature of the app is its cost. Share Me for PC is completely free and anyone can download and use it for free. The application won't even cost you a penny as it does not feature any in-app charges or hidden costs.
High-Speed Sharing
Share Me offers high data transmission speeds to its users. Some users have experienced speeds up to 10 MBps on their devices. If you want an application that can get your work done in a flash, then ShareMe is the right choice for you. Some sources say that this application provides faster transmission speed than Share it for PC.
Easy to Use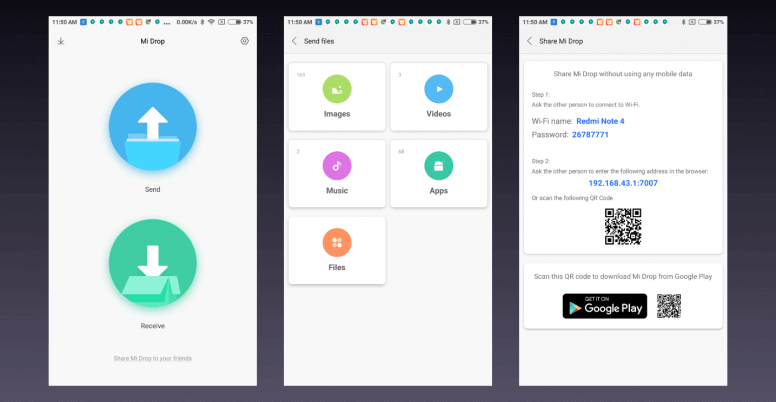 The application is easy to use and features an amazing user interface. ShareMe has a modern-looking neat interface that provides a breathtaking experience to its users. Anyone can start using the application without tutorials, thanks to the user-friendly design of the app.
No Internet Required
ShareMe app does not require an internet connection to share files between devices. All it does is create a hotspot on your device so that the other device can connect to it. The app implements the concept of P2P communication efficiently.
Cross-Platform Transmission
With Shareme, users can share their data and files on a wide range of devices. Smartphones, computers, laptops, tablets, etc are some of the devices that are compatible with the application.
Final Words
So, that was our take on the Share Me for PC application. We discussed a lot related to the topic such as using ShareMe Web without an emulator, installing and using Share Me for Pc on a desktop computer, and some of the features that the app offers. Wrapping everything up, Share Me is a file-sharing application that helps users to transfer data without an internet connection. ShareMe is cross-platform and users can share data with a wide range of devices such as laptops, computers, tablets, and more.