Hulu Location Error: 5 Methods to Get Rid of It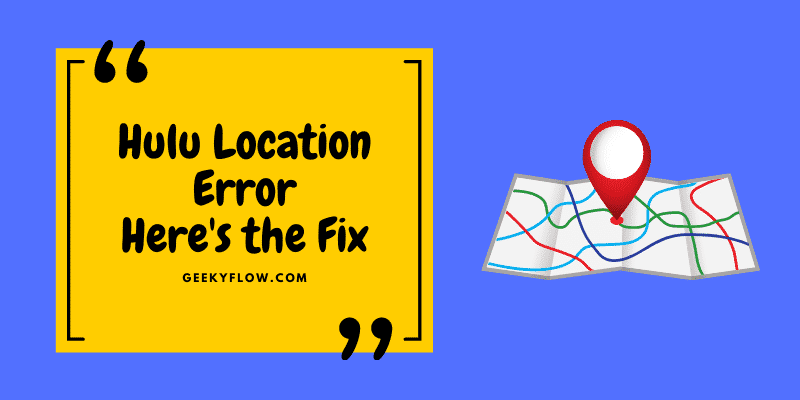 Hulu has been a user favorite in terms of alternatives to various streaming apps. With many features ranging from premium plans and a lot of streaming content, many have opted for Hulu to watch videos and binge their time. 
Common issue users have complained about is the location error on the Hulu app. You may find the screen displaying the message of Hulu unable to detect location due to which you may be unable to access the app on any of the devices linked. This may also cause a pop-up to open saying your account has been blocked every time you try to reset your location or change your network.
This article will give you an in-depth detail of the cause of this location error and how to fix the location error on the Hulu app so keep reading to know more!
Why Can't Hulu Determine My Location?
There may be many reasons regarding Hulu not being able to locate your region. A few of them which we can tell you of are:
Your device is connected to a VPN.

You may be sharing a Wi-Fi connection.

Your internet provider is failing to be recognized by Hulu.

The device you are using is incompatible with Hulu.
How to Make Hulu Determine My Location?
It may be quite troublesome to fix this issue as Hulu is known to get many kinds of application problems. Before proceeding with the alternative methods, we would recommend you update your Hulu app to the latest version. An outdated app may fail to recognize your region and you may get the Location error on the Hulu app. If the problem persists, read the 5 different solutions we have listed down in the article to fix the error of location on Hulu:
1. Update your home network
If you have switched to a new Internet Service Provider, we recommend you to update your home network to the current provider to fix this location error on Hulu. To do this, we have listed down the steps to be followed:
Log out of the

Hulu account

.

Log in using your device

Go to your

Hulu account page

from your web browser on your device.
Go to the

Privacy and Settings option.

Click on the

Set location option

and select your region.

Save changes and check whether the Hulu location error on your device is occurring again or not.
2. Check-in on your mobile device
You may be getting the location error on your Hulu app if you are watching streams and videos from a different place away from home. 
Since you need to check in from your home for this method, we recommend you to carry this method out when you're back at your place from your mobile device. Open the app on your device and go to the Hulu app using your home network. 
If all goes as planned then your app will register under your network and the location error should be removed from the Hulu app. This will also allow you to access the Hulu app from any part of your home country.
3. Disable your VPN
Using VPN may interfere with the privacy policy of Hulu due to which it is unable to figure out your location. If you are using an anonymous VPN then we highly recommend you disable it to fix the location error on Hulu.
Since your IP address is needed, using a VPN blocks you from being visible on the web is why Hulu may be showing this error. Try and disable all the VPNs or settings you have done regarding it and reconnect to Hulu.
If you have the VPN installed in your router, we suggest you to disconnect it from the router and restart your Hulu app.
4. Hulu TV in multiple homes
If you have a Live TV plan installed on your smart TV then you will end up having this error as Hulu does not work on Multiple homes. The app is only for single-home usage so we recommend you either uninstall the app and use it on another device or make changes to your Live Tv plans.
5  Manually Change Your Home Network
You can change the home network location from any device to fix the error of location on Hulu. to do so, follow the steps listed down:
Sign in to your

Hulu live TV.

Click on the

Profile icon

.

Select the account you are using.

Go to the

settings and privacy option

.

Click on

set/change home.
Set the new location and save the changes.
---
Conclusion
We hope one of the methods listed in this article on how to Fix location errors on Hulu has worked out for you and you don't have to face the trouble of the location error pop-up tab. Now you can easily fix the problem and enjoy your streams from any device and any location!
Check out Related Articles: