How To Make A Campfire In Minecraft?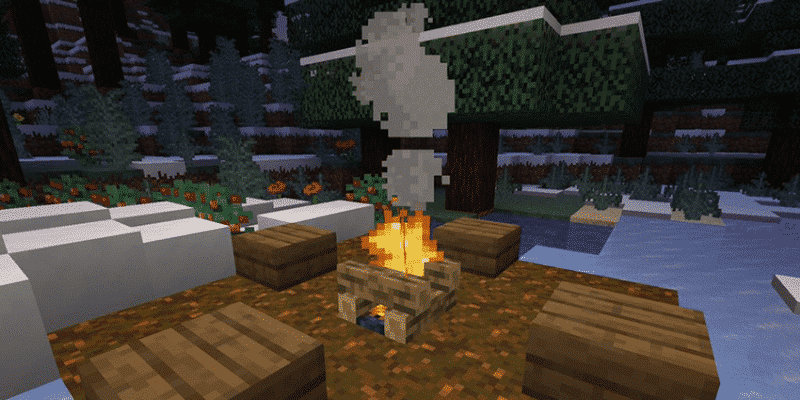 Campfires hold a good place in our hearts and memories. Sitting around the circle in a campfire, with snacks and our friends, or family. The memories we made spending time in the real world make us as happy as are going to be in the campfires we are going to make in Minecraft!
In Minecraft, we can do a tonne of stuff, from making farms in the skies to underwater mansions, and that too, even in the Hardcore mode. With every new release and patch, new items are being added. One such item is our today's topic, that is, making a campfire in Minecraft.
That's right, so today we are going to find out how to make campfire in Minecraft!
---
How To Make A Campfire In Minecraft?
Making a campfire in Minecraft is very useful. Campfires can be used for cooking food, bringing light, and the best part? They do not even go out! So let's start making our own Minecraft campfire!
The campfire recipe Minecraft includes the items:-
Requirements
As commonly we always need it for making almost all our builds.
If you want to know how do you make a campfire in Minecraft, then you can not forget the fuel itself, and the coal we need for that.
The structure of the Minecraft campfire certainly needs some crafting, sticks are gonna be our help for that.
What is our campfire mainly going to be dependent on? That's right, we are going to need wood logs for that.
So starting our building guide for making a campfire in Minecraft, let us begin with the crafting table!
Crafting Table
As usual, for almost all our equipment and uses, we need the crafting table.
The crafting table is one of the first items we make in Minecraft, without it, we wouldn't be able to advance beyond running around and dying.
So crafting tables can be found in villages, lucky if you can find any within the first few minutes of your initial spawn. But you can make your own crafting table easily.
To make a crafting table, we need four wooden planks. How do we get that you ask? We can make planks from the wood obtained from the trees.
Now it doesn't matter if they are oak wood trees or acacia trees or birch trees or spruce trees. All will work just the same.
To get wood from the tree, aim your crosshair on the wood, and keep the left mouse button clicked. It will break the tree blocks and get you wood. Next, simply place the wood into the crafting section of your inventory.
On the result side, you will have planks ready. One wood log gives 4 wood planks.
Once we have the planks ready, place the singular pieces of them in all 4 squares of the crafting section of your inventory. The result would be the crafting table.
Now that we have our crafting table ready, let's move on to our next step.
Coal
Now as we mentioned earlier, coal is our second requirement, and as it directly feeds our Minecraft campfire, let's set out to find coal!
Coal is one of the least scarce minerals we use, for example in comparison with iron, gold, Redstone, etc.
So how do we find coal? Coal can be very easily found in all biomes, all we need is one good stone pickaxe, even a wooden one would work but how often do we even make them?
You can even use an iron or diamond pickaxe, but let's save them for our future purposes when we might need them specifically for harder targets, or no harm to use if you have more than excess
Coal is found in coal ores, they appear to be in this form, light grey blocks with patches of black and grey in them.
Here is a picture for reference.
Now as we can see what it looks like, let's move on to how we can find it.
Coal ores can be easily spotted on the walls of caves, however small they might be. If you can't dig a little more around, you are bound to find it within a few minutes.
Coal has an occurrence of around 20 times in a chunk. That makes it guaranteed to be found almost every few minutes of mining.
Now that we know about coal, let's move on to our further requirements.
[Coal can be used to make torches(like the one you can see in the picture) by combining them with sticks One stick added with one coal will result in forming 4 torches, a pretty good bargain if I must say]
Sticks
Sticks are, as spoken earlier, very commonly used in Minecraft. Most of our tools require sticks, like the fishing rod or bow, or sword.
So how do we get sticks?
Sticks can be found by breaking small bushes that are present in deserts. But if you are far from any desert, you can do one more thing, much easier. That is, turning wood planks into sticks.

To make sticks from wood planks, we need to place at least two wood planks one above another in the crafting section. The result would be four sticks. Two blocks of wood planks provide us with 4 sticks.
Now you can use the crafting table or even the crafting section of your inventory since it needs two squares of crafting only.
Wood
For our final ingredient that we need to craft a campfire in Minecraft, we are going to be talking about wood. And no doubt in any normal world, wood is probably the first thing we break and collect as soon as we spawn for the first time in our "New World".
As we have very distinctly talked about in our crafting the 'crafting table' section, collecting wood needs just aiming your crosshair and keeping your left mouse click, and you will see the world falling down to your knees, (actually just the trees, jokes aside).
Final Step
Now that we have collected wood, sticks, coal, and have made our crafting table, we can finally finish our answer to the question, how do you make a campfire in Minecraft.
So the campfire recipe Minecraft is ready at our hands, let's assemble the items on the crafting table.
For making one campfire in Minecraft, we are going to need 3 sticks, 3 wood logs, and one coal.
For assembling the items in the crafting table, the pattern would be like this: 3 wood logs in the three squares of the bottom row, filled from left to right. Second, place the coal/charcoal in the center square.
Lastly, place 3 sticks, one on the middle square of the left side column, one in the middle square of the right side column, and one in the center square of the top row.
Left click on the fire on the wood icon on the resulting square of the crafting section, and drag and place it into the inventory and there we have our campfire in Minecraft!
---
Conclusion
So this was our little detailed and easy to go guide for making a campfire in Minecraft! You can use the campfire for many uses, it creates smoke which can be used as a small beacon, gives light out, and cooks food without fuel!