Here Are 5 COVID-19 Tracker Apps To Stay Updated About The Virus
As we all know, COVID-19 case counts have been escalating at an alarming rate. The number of positive Coronavirus disease patients are more than one million and still counting. 
This widespread transmission is because of the virus' ability to get transferred using common agents such as air, water, contact, etc. Everyone needs to be well aware of the situation and should avoid confrontation with unknowns.
The virus is lethal in a few cases and shows symptoms after 2-14 days of transmission. Therefore, there is an utmost need to track the status of Coronavirus disease cases. Below, we are sharing some useful apps that can help you to track down Novel Coronavirus cases near you.
One needs to be well aware of the status of COVID-19 around them. WHO has also stated that Coronavirus is 10 times deadlier than the Swine Flu.
---
5 COVID-19 Tracker Apps
Here, we have compiled a list of the best free COVID-19 tracker apps that can be used to track the status of COVID-19 cases.
1. Apple COVID-19
Apple developed its official COVID-19 tracker app that provides users with accurate information from trusted sources. The application has a screening feature that asks users questions associated with the Coronavirus disease. Then, a detailed to-do is provided to them.
The app also features FAQs, doctor advice, prevention tips, and more. Apple COVID-19 was developed in partnership with the CDC.
---
2. Worldometers
Worldometers is a Coronavirus status tracking Web application that provides precise information to its users. The application shows global as well as country data for COVID-19 cases.
Users can get a pictorial representation of the data in the form of graphs as well. The app shows total cases, deaths, patients recovered, and new cases data for every country in the world.
It offers some information regarding symptoms and prevention of the Coronavirus disease as well.
---
3. HERE COVID-19 Tracking Web App
HERE, a location and data technology platform recently launched its online Coronavirus case tracker. This tracker displays precise information. The data is highly accurate as the website gets updated regularly. 
The tracker is global and shows patient count for each country. It also has a world map that can be scrolled to get data for a particular country.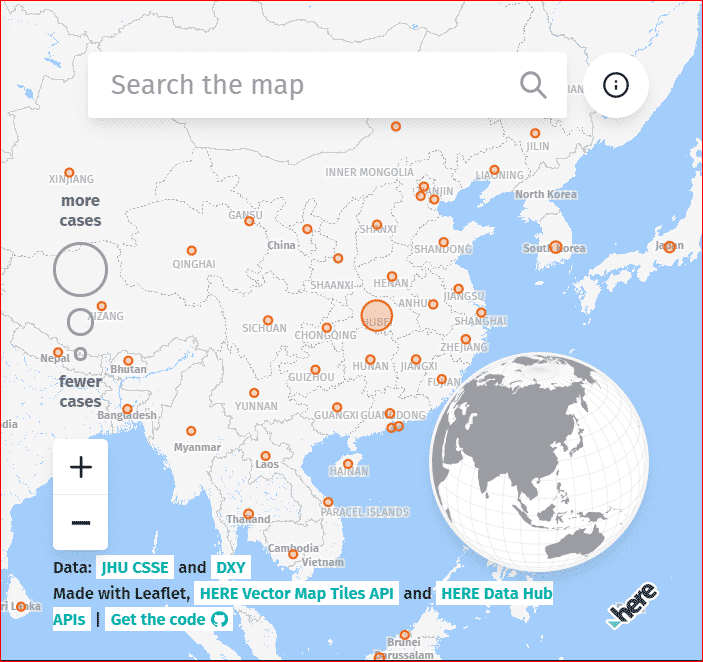 ---
4. COVID JoinZoe
COVID by JoinZoe is one of the best COVID-19 tracker developed for smartphones. The app asks users for their health status every day and offers suggestions based on their lifestyle.
The app is fairly popular in the United Kingdom. However, it has been launched globally and anyone in the world can download it for free.
---
5. Aarogya Setu
The Indian government launched an official Coronavirus case tracking app. The application uses mobile GPS data to notify a user if he/she has been in contact with a coronavirus patient.
The app also displays the nearest case location which informs a user about the COVID-19 status near them. Both Android and Apple smartphone users can download the Aarogya Setu application for free.
---
Wrap Up
So, these are the few COVID-19 tracker apps and screen-testing sites that are useful for the current situation. We recommend you to download and keep the apps in your device and regularly do a test. Also, small businesses can find in-depth guidance about how to handle the COVID-19 crisis in OnPay's resource center.
Lastly, we request you to stay at home and follow the rules of the government and stay sage. We will keep updating this article as soon as there is a new COVID-19 tracker app launched by any government organization or a developer. If there are any corrections or suggestions, please drop a comment.