How to Set Up and Manage A Thriving Discord Server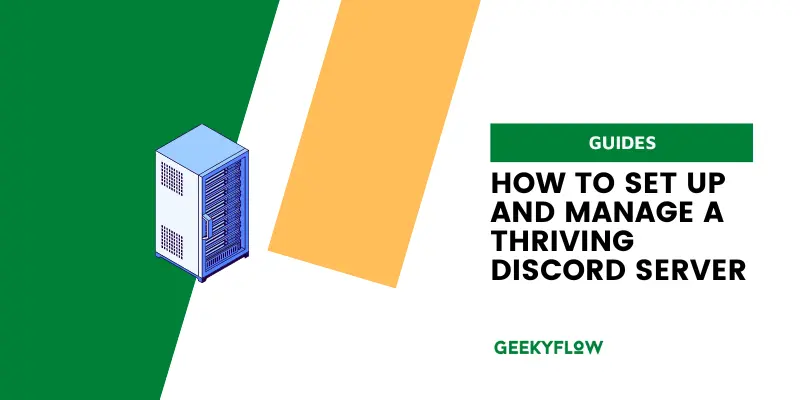 Discord is one of the best communication applications around today, and the sheer number of possibilities and custom functions enhance your ability to create a great server that hosts hundreds, if not, thousands, of people from across the globe. 
For those who have not used Discord before, think of your favourite communications app, like WhatsApp, for example. Discord provides all services just as others do, except that it includes everything in one place. 
The Vast Potential of Discord
Discord is currently used by most gamers and crypto enthusiasts, as a hub to discuss the latest news, market trends, and up-and-coming cryptocurrencies. In fact, the rise of dogecoin and other altcoins can be attributed to the boom of discord communities, where members accessed giveaways and crypto signals. What's more, all of the biggest NFT projects operated mostly through these apps and served as a central place for their community to view updates, voice concerns, and just talk nonchalantly. Hence, Discord plays a huge role in scaling communities in the crypto market and beyond, offering a great opportunity for businesses to tap into. 
Top-Notch Customisation
Discord as a service acts as a platform for many to build communities on, and the team is continuously working to add more features for people to use on their own servers. You can create hundreds of channels if you wish, have custom emojis, and set up automated prompts to make things extra fun. 
Setting up your Discord server from scratch is no easy task, and if you're looking to set one of your own up, you should spend a considerable amount of time creating channels and prompts of your own that allow you to put your very own twist on your server, making it unique and unlike no other. 
Games
There are many different games that you can integrate into your server, one of the most famous, Rumble Royale, uses a react with an emoji feature to take part, and the random number generator spurts out a fun and engaging storyline that includes all participants. 
The community that does use Discord is always wanting to be entertained, so keeping on top of a schedule is key. Whether you want to commit to a game a night, or once a week, you can schedule this to be displayed and have automated reminders and prompts to attract your members to join. 
Giveaways
Something that is a very large part of many Discord servers is giveaways, which act as a little bit of a gift for those who stay engaged and take part in discussions and events. This also acts as an added benefit to staying active and keeping the activity on the server as high as possible. 
Giveaways are not only a fantastic way to keep your community engaged but also an opportunity to collaborate with like-minded servers and communities that can aid the growth of your own server, which is a very powerful tool to take advantage of. 
Community Feedback
If you've not been involved in Discord servers previously, creating a channel for feedback and suggestions is a key step, as the die-hard everyday users of the platform always have some great tips to help you grow your community further while keeping the server as engaging as possible. 
Sometimes, the suggestions that seem insignificant are the ones that attract a large crowd and are able to keep them active in your channels. 
Always be ready to expand
With many Discord servers, the team behind them is always changing and growing, and what you'll often find is that when you have a dedicated server with loyal members, many of them will want to get involved without any cost to you. 
Hiring moderators to keep the community engaged is a great way of giving an incentive to members who want to take part. This also gives you great coverage for times when you are not available. Many members that use Discord are scattered across the globe, and time zones can be an issue if you want to always ensure there's coverage on the server.
Don't stop moving
In a server where there is a lot of activity, you'll need to keep growing the platform in one way or another. There are many add-ons you can install that consistently improve the environment. 
For many hosts of servers, they want to ensure the platform is smooth for the community, and in the beginning, the drive to keep improving the server is high, but for some reason, there is a significant drop-off once the server gets to a level the owners are happy with. 
This should never occur, making constant improvements, whether big or small, is one way to let your community know that you're committed to constant improvement and that you'd go leaps and bounds to provide the best server you can.
Utilising socials
As many know, social media is one of the most powerful tools you can have for any business, and this is also the case with a Discord server. A great tip for this is to begin growing your community on Twitter or another social platform while you work on the server in the background. 
This creates demand for the server, and when you eventually begin releasing invite links, the server will immediately be bouncing.