How to Build a Work-from-Home PC: Choosing the Right Components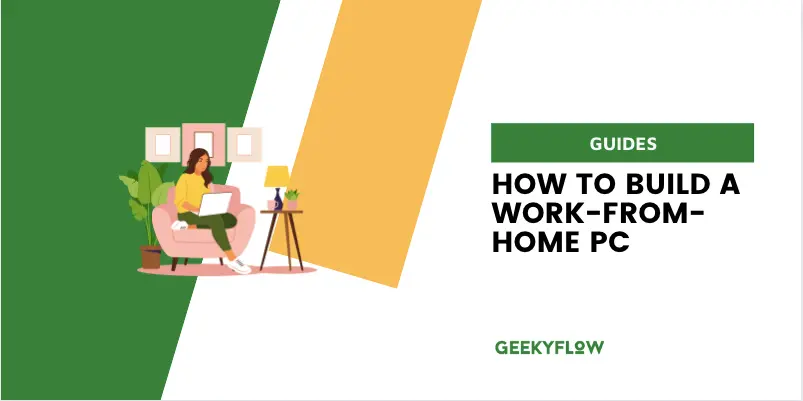 The line between work and play has become increasingly blurred in today's fast-paced world. As more and more people opt for remote work or flexible schedules, it is crucial to have a computer that is fit for purpose and at least matches the specifications of your office machine, thus allowing you to work efficiently from your home office.
Whether you are considering spending more time working from home or are currently a home-working professional, we will walk you through the process of building a personal computer that excels in office tasks, ensuring a seamless and productive transition from the office to working from home.
Why Build a PC Instead of Purchasing One of the Shelf?
There are some incredible prebuilt computers that you can purchase off the shelf at retailers like Amazon, Dell, and Target, yet an increasing number of PC users choose to build their own computers. Why is this? Customization and cost-efficiency is the primary reason. Building a PC gives you complete control over the components, allowing you to tailor your setup to suit your specific budget and needs. You can create the perfect PC for you regardless of whether you spent most of your time crunching numbers in a spreadsheet, entering data into a betting odds calculator, or love spending your lunch break playing the latest AAA gaming titles.
How to Define Your Home Office Needs and Budget
You will notice that there are a plethora of components when you start thinking about building a home PC. Processors, storage, coolers, graphics cards, and network cards range from relatively low cost to extremely expensive. As a general rule, much like when purchasing a motor vehicle, the more powerful a component is and the more established the component's manufacturer is, the more expensive that PC part will be.
Start the building process by writing a list of your work requirements because everyone's job is different in some way. What are your typical office tasks? Is your workload primarily focused on email, documents, and spreadsheets, or do you require more resource-intensive products to assist you with photo and video editing?
You will need a monitor to go with your PC, and these also come in a wide range of sizes and screen resolutions. Today's standard screen size is 22 inches, but you may prefer 27″. Also, consider a dual-monitor setup because having two screens can increase productivity. Your monitor should have flicker-free technology to help prevent eyestrain and headaches and be able to display a resolution that fits your needs.
Once you have your wants on paper, it is time to set a budget. Building a basic office PC for a couple of hundred dollars is possible. Equally, you could spend thousands of dollars on a graphics card alone. Set your budget and stick to it; otherwise, you could end up breaking the bank.
The Main Components of a PC
Choosing the right processor (CPU) for your needs is vital. The CPU is the brain of your PC; it plays a pivotal role in office tasks. Most mid-tier CPUs by Intel or AMD will be sufficient for most office-related tasks. However, you should look for CPUs with multiple cores and threads because these handle multitasking more efficiently. Those reading this article who frequently perform resource-intensive tasks like photo and video editing should consider a more high-end processor.
Select a Graphics Solution
Most office work does not require a dedicated graphics card, often called a GPU, in PC building circles. Modern processors usually come with integrated graphics that easily handle standard office applications and can even handle some light gaming.
A dedicated graphics card is a good idea if you work in graphic design or edit videos. A GPU can process these tasks with ease and without resulting in your PC grinding to a halt while it makes billions of calculations. NVIDIA is the best option for GPUs, with the latest 4000 Series offering a balance between budget and raw power.
Memory Matters
Some people get confused when talking about a computer's memory; they often incorrectly call hard drive storage memory. A PC's memory is called RAM, an acronym for Random Access Memory. You don't need to know how RAM works, but you should know that it is essential for the smooth running of your PC, mainly if you run multiple applications simultaneously.
Your office PC should have at least 16GB of RAM, which is currently a sweet spot. More RAM is worthwhile for intensive tasks and serious multitaskers.
Storage Solutions
A hard drive is the component where your PC stores data. Your operating system, applications, work-related files, and video games are all stored on a hard drive. Traditional hard drives are great for storing large amounts of data because they are available with huge capacities.
However, solid-state drives (SSD) are much faster, and NVME drives are faster still. It is common to have your operating system and most frequently used applications and software on a super-quick NVME drive and then other less commonly used files on a slower hard drive.
Your Motherboard Brings Everything Together
The motherboard of a PC is where all of the components sit; the motherboard ensures everything runs as it should. Motherboards come in a few shapes and sizes depending on your PC's case size. Also, they have different slots depending on whether you use an Intel or AMD CPU.
Ensure that your motherboard is compatible with the components you want and has the number of USB and expansion slots you require.
All Those Components Require Power
As the name suggests, power supply units (PSUs) power your PC's components. You will unlikely require a PSU capable of handling large wattage if you are only performing office tasks. Still, it is crucial to ensure its wattage rating more than covers the total demand of the combined components. Add up the total wattage used by your components when they are operating at full capacity (most manufacturers display this information) and ensure your PSU can handle it. Consider a higher wattage rating if you ever plan to upgrade any components, and only buy the best PSUs with a glowing reputation. If a PSU blows, it can fry your PC in an instant.
Selecting a Case and Cooling Solutions
A PC's case is more than simple aesthetics. Some cases have better airflow than others, allowing the PC to remain cool under operation. It is unlikely that standard office work will require a third-party cooler – the stock coolers are sufficient – but high-intensity programs generate a lot of heat, so a cooler may be necessary.
Wrapping Everything Up
Once you have your desired components, you must decide on the operating system and software. Ideally, your operating system will be the same as that used in the office: Windows, macOS, or Linux. Likewise, you should use the same office productivity software used in your workplace so that everything is guaranteed to be compatible.
As for the physical building of your new machine, it is easier than you think. However, such a process deserves its own article!