CocoSign Review: The Importance of Getting an Agreement for Business
A business may be a lifeline for many of you who had spent their lives to stand out in the crowd. An entrepreneur burns his days and nights to work on his ideas and put it into a reality. A small business owner puts all savings into his start-up and nourishes it with his/her sweat and blood.
What if someone claims all your efforts with its reckless tactics and you're unable to defend your right? Although you got proofs by the customers and employees but the law demands paper proofs. Many small and medium enterprises risk their entity because they don't bother about the most essential contracts in business.
---
Sign Documents with CocoSign
These contracts and agreements can protect them from bad intentions of your competitors or the copy pasters. Don't be worried about the agreement costs. CocoSign allows you to access agreement forms without paying any high rates or fees to lawyers.
It is a reliable e-signing platform with numerous expert-drafted templates for all sectors. It is recognized by major media platforms such as Techadvisor and Forbes.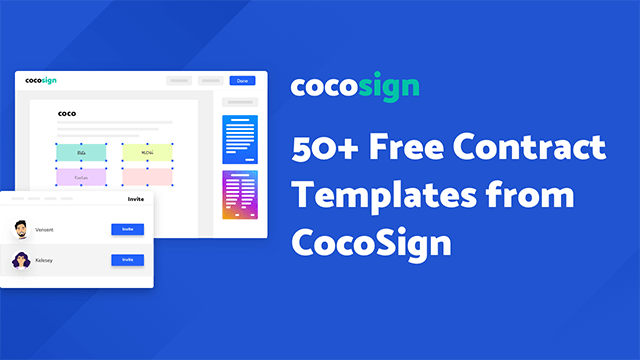 Especially the small-business owners pay attention to their work in the most efficient manner to offer a good service to their clients. They mostly put these contracts and agreements on procrastination sheets and hardly try to figure them out. Follow these steps to protect your business by signing up with CocoSign.
First, Just go to the website of CocoSign and sign up with your google account for free. Upload your credentials and sign them electronically with no fee. Last but not the least, share it, download it, or simply save it as a draft for future use.
Having a written agreement will vanish a lot of assumptions and will also protect both parties not to play a blame game. Here is the CocoSign on the importance of getting an agreement for the business.
---
Legal protection to both parties
If goals are to be written between the partners on an agreement the odds are pretty high that they can be achieved. It also puts pressure on the involved parties to meet their obligations on time and wishing their boundaries. Both parties can check the agreement at any time to ensure that the work progress is on the right track.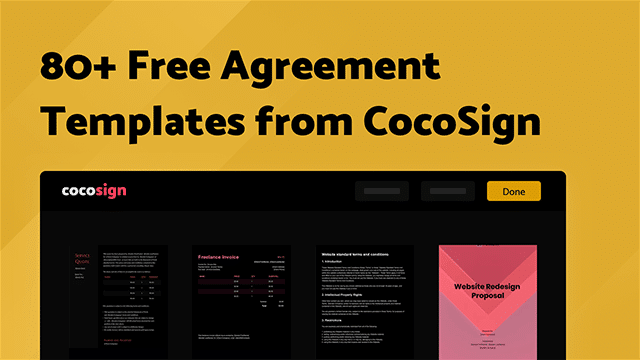 For instance, if an issue arises in the middle of the business tenure, having the agreement in writing will share its verdict. CocoSign can be a key player that can help you continue your business with full legal protection.
Another scenario for a business agreement can be this: if the client decides to make his ways apart, the provider can take legal actions against them. It'll compensate for the amount of money he worked for.
---
Locking in financial responsibilities
This is the only contract that fears the service receiver to pay the agreed amount on time. For big projects, both parties can set milestones or installments to be paid after a specific period. Take the example of a car agent who sells a car on monthly fixed installments where the buyer is bound to pay the amount by the law.
However, it's seen in many cases where a written contract is not always enough to get paid on time. You may need to issue invoices by mentioning the terms before going into law for proceedings.
---
Contracts for services
A business contract doesn't write for the products only. A service provider can also get into an agreement with the service buyer. There are ready-made templates over there on CocoSign that provide the best service agreements. You can download them and use them according to your needs.
Normally the contract includes the following details:
Legal names of the agreed parties
Contact information
Name of the service
Details of the given package
Additional fees or charges
It'll help you keep things original and near to reality without making false assumptions or expectations. A simple agreement of service can open a thousand doors to proper communication between the signed parties.
---
Contracts for vendors 
Although vendors provide contracts in which all things are written properly. Don't just rely on their intentions as you're never who's going to make your day worst with hidden charges. Read all the terms and conditions mentioned by the vendors on the given contract before making any signatures to it.
Sometimes ignored clauses written by the vendors can cost you way much then your expectations. Therefore, read it twice and loudly so that you can only pay attention to the agreement on the smartphone at the same time. A business is your most beloved asset after home, make sure it's protected by law.
---
Avoid conflicts in the business
Getting a business into an agreement can avoid tons of conflicts, misunderstandings, and questions to your credibility. We know honesty is the best policy but all fingers are not alike. Other people may not be honest enough to work on fair deals and try to cheat you in business.
So it's your first obligation as a business owner: no matter small or large, get yourself into a contract. Includes all those clauses that protect your rights and resolve conflicts in the future. For instance, one can sign a contract with an employee so that they both understand their powers and rights under one roof.
Business contracts may feel very overwhelming, but trust us they're as essential as the blood for life. If you still hesitate in getting into these agreements, try CocoSign where you can get any type of business contract ready to sign.